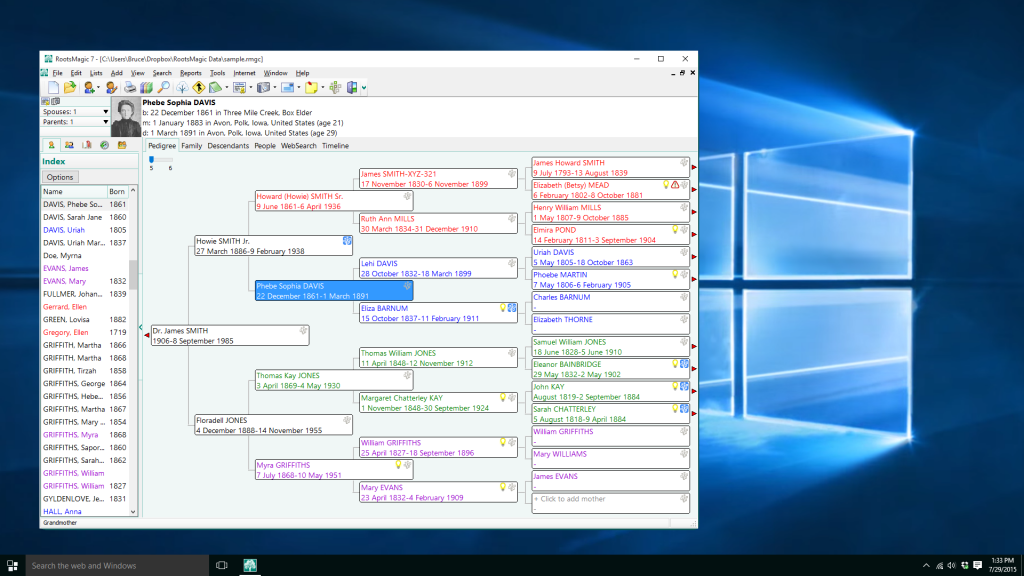 Today is the day that Microsoft has released the latest version of its flagship operating system- Windows 10. David Pogue, tech writer for Yahoo, wrote:
"I'll review the various improvements and new features, but if you're in a hurry, the main thing is this: Windows 10 is coherent. It makes sense. Its design no longer leaves you pounding your forehead on your desk, ruing the day that Microsoft lit up whatever it was smoking."
If you run Windows 7, 8, or 8.1, you may have already reserved your free upgrade. Microsoft expects over 1.5 billion people to be using Windows 10 in the near future.
So the question that we've been asked by many users is:
"Will RootsMagic/Personal Historian/Family Atlas run on Windows 10?"
The short answer:
"Yes".
Microsoft made early versions of Windows 10 available to developers and to the public to make sure the final release was as stable and as compatible as possible. We, and many RootsMagic users, have tested and confirmed that the software works as designed in the new operating system.
So whether you're an early-adopter and are already downloading Windows 10, or a cautious user taking a wait-and-see approach, we've got you covered.
Important Update: Apparently Microsoft snuck in a last-minute change that didn't exist in earlier test versions.  There is a Windows registry entry needed in Windows 10 to allow programs to display data using the internal browser component (again, it was working in Windows 10 preview builds).  This prevents the internal WebSearch from working, certain text appearing on some screens, and backing up to Dropbox and Google Drive.
Fortunately, the problem is easy to fix:
If you are using RootsMagic 7 under Windows 10:
Select Help > Check for Updates from the Main Menu. You will see an update is available (version 7.0.7 or higher).
Follow the instructions to automatically download and install the update.
If you are using RootsMagic 4, 5, or 6 under Windows 10:
1. Download the .REG file from files.rootsmagic.com/RootsMagic-Win10-Browser-Fix.reg
2. Run the .REG file to add the necessary entries to your Windows registry. It will display several scary warnings. Just keep telling it that "yes", you do want to make the change.