Another quicky while I'm at the BYU genealogy conference.
We all know how important it is to add sources for the information we enter. When adding a source in RootsMagic, we've always been able to enter the "quality" of the citation. But it has been limited to "primary", "secondary", "questionable", and "unreliable". Until now.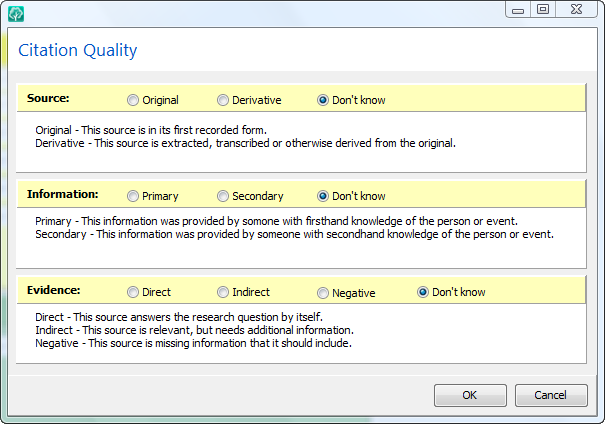 As you can see, RootsMagic 4 now follows approved standards for evidence analysis in an easy to understand format.
To learn more about evaluating your genealogy sources, visit:
http://www.bcgcertification.org/skillbuilders/skbld085.html
And our friend Mark Tucker over at ThinkGenealogy.com has put together a Genealogy Research Map that covers the full research process (including assessing the quality of a citation). You can download it for free from:
http://www.thinkgenealogy.com/2008/07/31/genealogy-research-process-map-version-2/
This isn't the only new source enhancement coming in RootsMagic, but we're saving the best for later. Stay tuned.