The world's largest genealogy conference is 100% virtual this year as well as 100% free!
RootsTech 2022 runs March 3-5, 2022 at RootsTech.org. It has an impressive list of keynote speakers and over 1,500 class sessions on 185 topics in over 30 languages. Did we mention it's all free?
Relatives at RootsTech

There is also an improved "Relatives at RootsTech" feature that lets you see how you're related to the other 650,000+ RootsTech attendees. Just use RootsMagic to update FamilySearch Family Tree to see how you connect to interested genealogists around the world.
RootsMagic Users Group Chat
We also set up a group chat room in the RootsTech chat feature. To access it:
Visit https://www.familysearch.org/messages/chat/fullpage. Sign into FamilySearch, if needed.
Click on "Groups", to the right of "Chats" on the header bar.
In the "Search for groups" box, type "RootsMagic".
The "RootsMagic Users" group will appear in the search results. Click on it to join the chat group.
Special RootsMagic Discount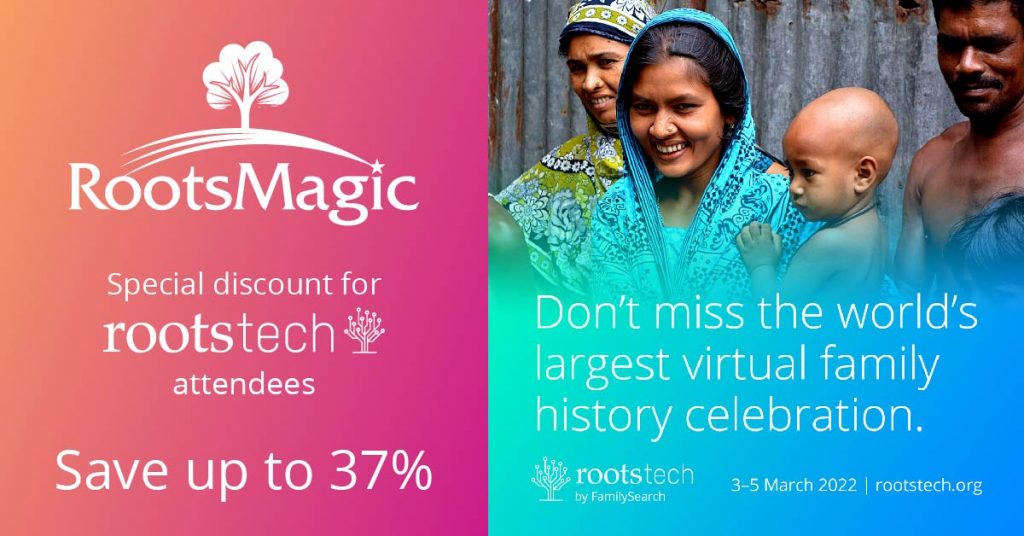 While RootsTech Connect does have a virtual expo hall, we've been putting all of our time and efforts into improving RootsMagic 8 and, unfortunately, don't have a virtual booth this year.
However, we're pleased to offer RootsTech attendees a special discount. Save up to 37% on our software including Personal Historian 3, Family Atlas, and the NEW RootsMagic 8!
Through March 19, 2022, use the code ROOTSTECH to receive your discount. There is no limit on the number of discounted copies you can buy during this limited-time offer.