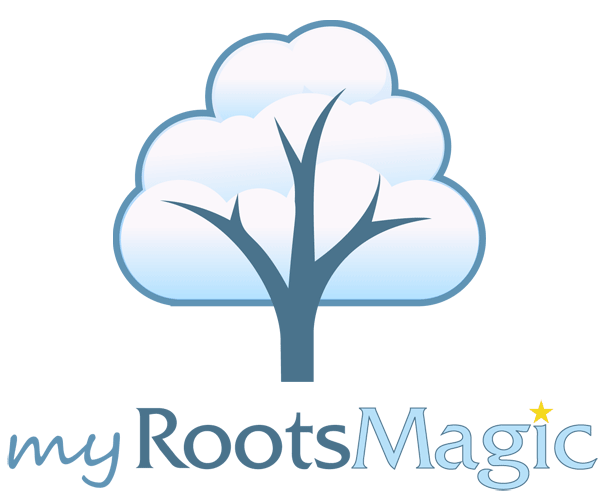 We released our new RootsMagic 6 software last week with an impressive list of new features.  One of our goals with this new release was to make it easier for you to share your information online with your family.
With that goal in mind, we're pleased to offer our new My RootsMagic free hosting service for users of RootsMagic 6.  With it, you can easily publish and share your family tree, notes, sources, and media with others.
Publish Online
To publish your information to My RootsMagic, just run RootsMagic 6, then select "Internet > Publish online" from the main menu.  RootsMagic will step you through choosing which people you want to include, privacy options, and customizing your home page.  Then, with the click of a button, it publishes it online for you.  Your site will be located at my.rootsmagic.com/yourusername and will include a home page, a searchable name index, and pedigree view, family views, and individual view for every person you choose to include.  You can also include the notes, sources, and pictures on your site as well.
Your My RootsMagic site will have a very clean appearance, and is very easy for visitors to navigate.  Here's a sample of what the pedigree view looks like (click the image to embiggen it).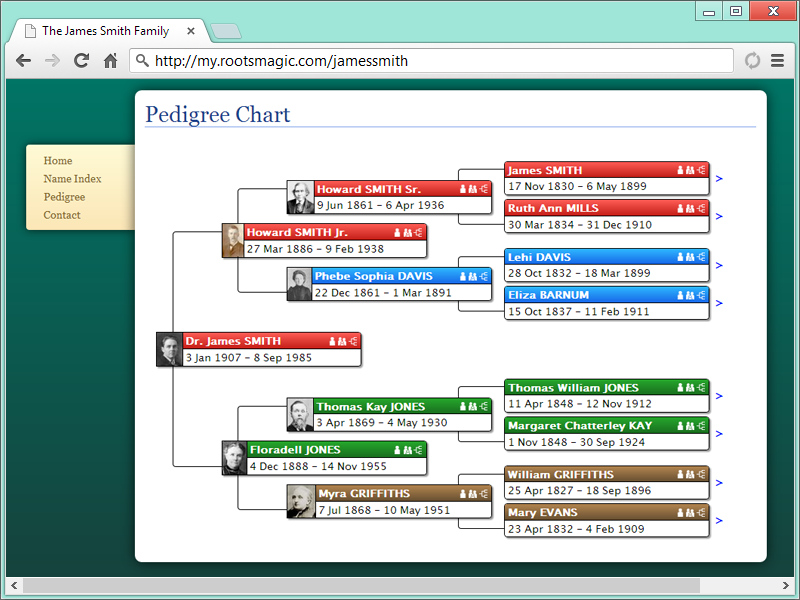 See it in Action
If you want to see a sample of what RootsMagic 6 can create, we've put up a sample site for you to experience.  This sample site is purely fictional information, but will let you navigate the various views and see how notes, sources, and media are included.
If you've like to see a live demonstration where I created and published a family tree online, watch the last half of our free webinar "What's New in RootsMagic 6" (it starts at 40:00 minutes into the webinar).
And be sure to read Randy Seaver's blog articles about his experiences trying RootsMagic 6 and it's online publishing here and here.  Randy sums up the My RootsMagic online publishing nicely:
"I really like the ease of creation of the website – it's so idiot-proof that even I can do it.  I really like the tree content, the visual product, and the ease of navigation within the tree.  Plus, it's FREE as part of buying a superb genealogy software program."
So if you've been wanting to share your family history online but haven't had the time or tech-knowledge to do it, get or upgrade to RootsMagic 6 today!