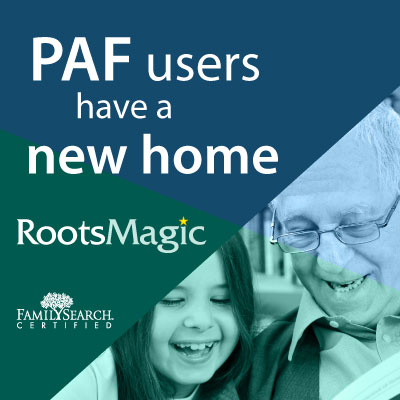 In a blog posting today, FamilySearch announced the retirement of it's Personal Ancestral File (PAF) genealogy software.
"Beginning July 15, 2013, PAF will be retired and will no longer be available for download or support. For full details and for information on alternative products, please visit http://familysearch.org/PAF."
The linked page recommends that PAF users upgrade to family history software from one of the FamilySearch parters.  Of the three options listed, RootsMagic is the only software certified to utilize the full capabilities of FamilySearch Family Tree, including sharing data, ordinances, discussions, sources, and change history.
We understand that change isn't easy, so we've worked hard at putting together some new tools and supports to make the transition as painless as possible for PAF users.
A New Home
Over the past few years, tens-of-thousands of PAF users have made the switch to RootsMagic.  They've enjoyed its amazing new features such as book publishing, color coding, wallcharts, Shareable CD's, running straight off of a flash drive, interactive problem lists, online publishing, a mobile app, and more!
But don't take our word for it.  Here's what some of our satisfied-switches have had to say:
"I have used PAF for all my years in Family History research. I now enjoy working with RootsMagic, it is by far the best program. Thank you." — Joyce
"I want to thank everyone at RootsMagic for all their hard work! I purchased RootsMagic 4 after attending a genealogy seminar this past September. I was still using PAF at that time. When Bruce explained how easy it was to convert my data I was extatic, so I purchased the software. When I received it, it loaded quickly converted all my old PAF data (just as Bruce said it would) and I was up and running. . . Love is a very strong word, and I Love RootsMagic!! Thanks everyone, great job!!" — Kathy
"I have been working on the family history for many years using PAF, and converted to RootsMagic, which is a great program, very user friendly. I have recommended the program to beginners that are interested in finding and recording their own family genealogy." — Shirley
"A great improvement from PAF. This will help with the work. Thanks!" — Garth
Update Discount for PAF Users
To make the transition as painless as possible, we've set-up a special website at www.PAFUpgrade.com that includes training videos, testimonials, and more.  And for a limited time, we are offering PAF users the full-version of RootsMagic at the upgrade price of only $19.95.  You must visit www.PAFUpgrade.com to receive the discount.
Of course, we also offer a free version of RootsMagic named RootsMagic Essentials that offers the basic abilities of PAF plus the certified FamilySearch Family Tree features.
Free Quick Start Guide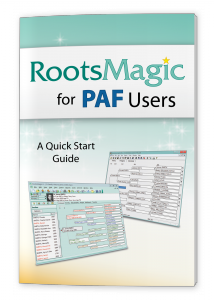 We've also put together a special guide titled, "RootsMagic for PAF Users: A Quick Start Guide".  This 16-page, full-color booklet guides you step-by-step in making the switch and answers the biggest and most common questions.  This guide is available in printed format and as a free PDF that can be viewed on your computer or mobile device and even printed at home.  We encourage our users to download this guide and freely share it with any PAF users who may benefit from it.
As a bonus, any PAF user who upgrades to RootsMagic at www.PAFUpgrade.com will receive a copy of this Quick Start guide.
We're Here to Help
If you're a PAF user, we understand that change isn't easy. But with a little of your time and a little help from us, you'll be just as comfortable with RootsMagic as you were with PAF.