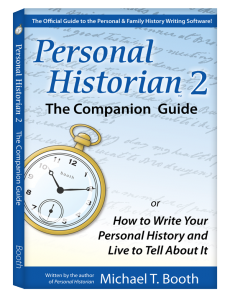 Personal Historian is our unique software that helps you write the story of your life and of other individuals. One of the most common questions we hear is, "Is there a printed book to go along with it?" We're pleased to finally be able to say, "yes!" with the release of Personal Historian 2: The Companion Guide, now available in our store.
This 192-page book was written by me, the author of Personal Historian.
"User Manual" is such an unfriendly word. I've tried to make this book much more than a cold, technical description of just another computer application. Because a personal history should be much more than a lifeless description of events, I wanted this book to be a little more colorful and have a little more personality.
Yes, you will find the expected technical descriptions and walk-throughs. But, hopefully, you'll also find practical tips, new ideas, and needed inspiration to finally bring life to your life stories.
Introductory Price
For a very limited-time, you can get your own copy of Personal Historian 2: The Companion Guide for only $7.95 (plus shipping). That's nearly half-off its regular price of $14.95. Simply visit our website and add it to your cart to receive the discount.
Don't wait, order your copy today!
Table of Contents
Curious about what is inside? Take a look at its Table of Contents:
 Introduction

Why you need Personal Historian
What is Personal Historian?
Personal Historian's History
About this Book

Why you can't write your personal history

Why are you doing this?
The obstacles
"I don't know where to start"
"I don't have the time"
"I can't remember enough details"
"I'm not a good writer"

Getting started

The Welcome Screen
Creating a new file

Importing Data

Importing Genealogy
Importing LifeCapsules & Timelines
Importing Other Text Data

The Main Screen

Main Menu Toolbar
Status Bar
Story Details
Time Slider
Story List
Search Box
Filtering Stories

Working with Files

Open an Existing File
Searching for a File
Moving or Renaming a File
Deleting a File
Copying a File
Checking and Repairing a File
File Options

Managing Your Stories

Story Status
Adding a New Story
Editing an Existing Story
Picking a Random Story
Adding a Journal Entry
Deleting a Story

Using Categories

Adding a New Category
Editing a Category
Deleting a Category
Changing the Order of Categories
Changing a Story's Category

Recording People

Relationships
Dates of Involvement
Adding a New Person
Editing a Person
Deleting a Person
Adding a Person to a Story

Tracking Places

Geocoding Your List of Places
Adding a New Place
Editing a Place
Deleting a Place
Changing a Story's Place

The Editor Screen

Editor Menu
Editor Toolbar
Editor Status Bar
Story Information

The Organizer

Organizer Toolbar
Organizer Items
Moving Organizer Items
Selecting Multiple Items at Once
Copy Items to the Composer

The Memory Solution

Brainstorming
Step 1: Visualize
Step 2: Summarize
Step 3: Organize
Step 4: Repeat
The "O" Word

The Composer

Composer Toolbar
Applying Styles
Fonts & Formatting
Adding Pictures
Importing a Document
Spell Check & Thesaurus
Readability Check
Dictating and Reading Back Your Story
Fullscreen Editing

How to Write Good

Let Your Voice Shine Through
Make it Readable
Write to Your Audience
Write with Strength
Finding the Right Word
Shaking Things Up
The Difference

Do I Have Your Attention?

Show, Don't Tell
Add Context
What's a newspaper?
Let Your Characters Speak

Putting It All Together

Creating a New Book
Managing Books
Using the Publisher
Printing and Exporting Your Work
Publishing a Single Story

Protecting Your Work

Rule #1: Backup your data often
Rule #2: Keep past backups, not just the latest
Rule #3: Keep backups in multiple places
Restoring from a Backup

Good Luck
Reference Guides

Program Options
Dates and Ages
Menu Commands
Keyboard Shortcut Keys

Index