As I teach RootsMagic classes or webinars, I'm surprised how often somebody will say "I didn't know that feature was in there".  One such "unknown" feature is RootsMagic's problem list.  The existing problem list (found at Tools > Problem Search > Problem List) scans everyone in your file to try and find any potential data entry errors (people born before their parents, etc) for everyone in your file.
Since the problem checking is such an important feature, we are introducing Problem Alerts in our latest update (version 6.3.0.0).  With Problem Alerts, you no longer have to manually run the problem list to see possible data entry issues.
RootsMagic will problem check in the background and display an alert next to the name of any person with a potential problem.  This alert will show on the pedigree, family, and descendant views.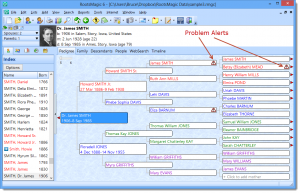 Just click on the problem alert and RootsMagic will display a list of the potential problems for the person.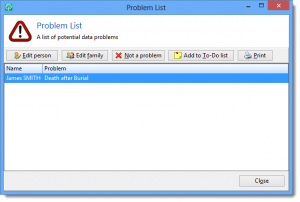 You can highlight any of the potential problems and edit the person or family, mark the potential problem as "not a problem", add the problem to your To-Do list so you can work on it later, or print the list of potential problems for the person.
You can enable or disable Problem Alerts from the Tools > File Options screen. You can also select which types of problems you want the Problem Alerts to look for.
Here is a short video showing how this cool new feature works.
Remember, to use Problem Alerts, you'll need to be using the latest version of RootsMagic 6 (6.3.0.0).  If you already own version 6, select Help > Check for Updates from the main menu.  If you are using an older version, you'll need to upgrade to v6.
In our secret underground labs, we've already found the Problem Alerts to be very useful in helping us clean and maintain our genealogy data. We're confident it will be just as useful for you too.