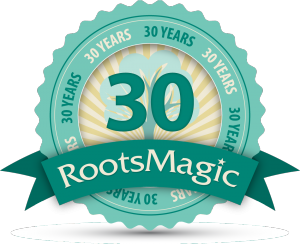 NOTE: This is Part 9 of our ongoing series documenting the history of our company. If you're just joining us, be sure to read Part 1, Part 2, Part 3, Part 4, Part 5, Part 6, Part 7, and Part 8.
When we finally released RootsMagic 1.0, the book I had written for it was still a month or so away from coming back from the printer.  I had wanted to have it ready at the same time as the program, but there was still some editing to do, and I hadn't designed a cover for the book yet.  I finally took the artwork for my Family Origins cover to help with the layout and modified the graphics and text.
The books arrived from the printer the day before I left for the Southern California Genealogy Jamboree at the end of February 2003.  This was the last Jamboree held at the Pasadena Convention Center.  I just loaded the books and software into the car without even really taking a look at them.  The first day of Jamboree, a customer brought the book they just bought back and asked me to take a look at it.
When I didn't find any damage to the book, I asked what the problem was.  They pointed to the spine… "Getting the Most Out of Family Origins."  My heart sank.  I knew we had 5000 books exactly like that sitting in my garage, and couldn't possibly afford to reprint all of them.  The customer wasn't upset, and even made a comment about it being a collector's item.  I made sure to make a note of that comment.
I called my wife to tell her about the book spine, and she said she already knew about it.  She just didn't tell me because she didn't want me to be upset.  When I got online that evening, I saw a big discussion about the incorrectly printed book spine.  I mentioned that when we reprinted the book, we would be correcting it and that this book was now a collector's item.  After saying that, sales of the book picked up drastically.  We even had customers say they never needed or bought the book for Family Origins, but they were buying this one specifically because of the incorrect spine.  I still have users come up to me at conferences and tell me they have a copy of that particular book.
As sales grew, we realized how few people actually knew our company's name.  Family Origins was known as a Parsons Technology product.  Very few people ever noticed that it said FormalSoft owned and developed the program, and that it was licensed to Parsons.  When we would answer the phones with "Thank you for calling FormalSoft, how may I help you?", We would be greeted almost every time with "Is this RootsMagic?".  Finally, we made one of the hardest decisions a company ever has to make.  On March 1, 2004, we issued this press release:
FormalSoft, Inc. Changes Name to RootsMagic, Inc.
SPRINGVILLE, Utah, March 1, 2004 – FormalSoft, Inc. announced today that, effective immediately, the company is changing its name to RootsMagic, Inc. 
"The name change to RootsMagic, Inc. reflects our commitment to the RootsMagic product line and to the family history market" said Bruce Buzbee, founder and president of RootsMagic, Inc.
"In addition, the overwhelming success of our RootsMagic genealogy software in just its first year has overshadowed the company name recognition built during all the years we licensed Family Origins to other publishers."
Coinciding with the name change is the switch to www.rootsmagic.com as the official company website.
I guess I really did say that quote above, but the reality is that nobody knew us as FormalSoft, and it was just going to keep getting worse.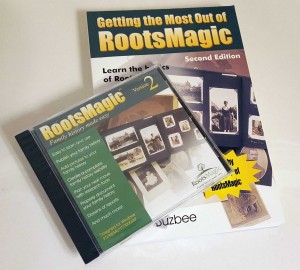 To get RootsMagic released in a timely manner, we had to leave out one important feature… wall charts.  I had already been working on them but knew it would delay the release another 6-8 months if we tried to include them in version 1.  In May 2004, we released RootsMagic 2, and with it the new wall chart functionality.  Around this same time, we started selling software from other companies, programs like Passage Express, AniMap, GenSmarts, and a relatively new program called Personal Historian.  We would buy copies of each of the programs, and then resell them on our website along with our own RootsMagic software.  I got to know and become friends with the developers of each of these products.
In May 2005, the Southern California Genealogy Jamboree moved to its new location at the Marriott convention center in Burbank, California, and we were there to exhibit as usual.  Unfortunately for the Jamboree, the move took its toll on attendance that year, and most of our time was spent talking to the other vendors rather than with users or customers.  But what was a negative for the Jamboree led to the most important development in our company's history.
With nothing better to do that talk with other vendors, I spent a lot of time visiting with Michael Booth, the developer of the Personal Historian software we had been reselling.  I really liked the appearance of his screens, especially compared to the bland screens and graphics in RootsMagic 2.  I found that Mike created most of his own graphics and toolbar buttons, so I asked him if he would be interested in designing new graphics and toolbar buttons for the RootsMagic 3 I was working on.  I offered to pay him, but he still claims to this day that he offered to do it because he was sick of looking at RootsMagic's ugly screens.
While Mike made good on his offer to do some new graphics, this was only the beginning of the biggest (and best) decision I ever made for the company.

NEXT: New Partners & Products