RootsMagic 5.0.3 introduced the new "Who Was There" report, which can be as simple or as powerful as you want it to be.  At the most basic level it will print a list of people who may have been in a selected place at a selected time.  Just enter the place and date and RootsMagic will do the rest.  List people in a census, people who served in a war, or people who just happened to be living in a particular place at a particular time.
To access the "Who Was There" report, select Reports > Lists from the main menu.  It will be the last report in the Lists category (alphabetically).  Highlight the "Who Was There List" and click the "Create Report" button.  RootsMagic will display this screen.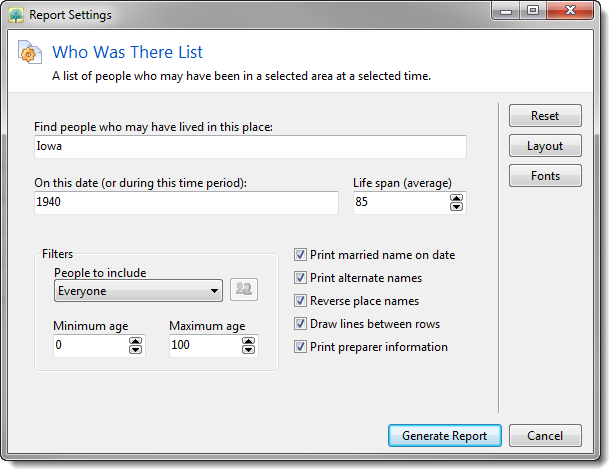 Some Help with the 1940 Census
Let's say you are interested in finding out who may have been in Iowa at the time of the 1940 Census.  You can simply type "Iowa" for the place, and enter "1940" for the date (you could also enter the actual "2 Apr 1940" date if you wanted).  Select any options you want and click "Generate Report".
Tip: While the report will print in portrait mode, it looks a lot better printed landscape.  Click the "Layout" button and choose to print the report in Landscape.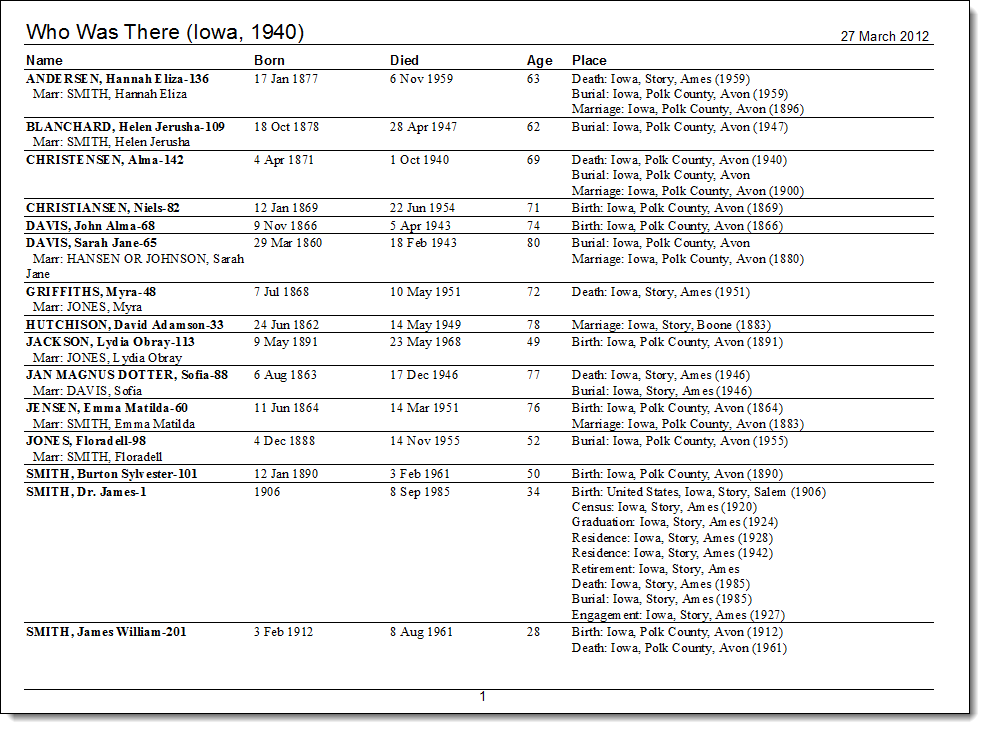 RootsMagic will create a list of everyone in your file who may have been in Iowa in 1940 (you can click on the image above to see it larger).  Now of course you aren't limited to typing in states.  You can enter countries, states, counties, or cities.  When entering a place that could be ambiguous, just make sure to enter enough of the place so that RootsMagic can figure out what place you mean.  In other words, don't just enter "Springfield", be a little more specific, like "Springfield, IL".
The "Who Was There" report will list the name(s), birth and death dates, the person's age on the date you selected, and any events in the person's life which occurred in the place you entered.  You can also choose to print any alternate names for the person, as well as the most likely married name on that date for any females.
Other Uses For the "Who Was There" Report
While this report can be invaluable for finding people in a particular area during a census, it has a much wider range of usefulness.  Let's say you wanted to find people under 30 who were in South Carolina during the US Civil War.  In the report options below, you would enter "South Carolina" as the place, and instead of entering a single date, you can enter a date range covering the time of the Civil War.  And finally you can set the minimum and maximum age to filter the results to those people under 30 (or between 18 and 35 or any other range).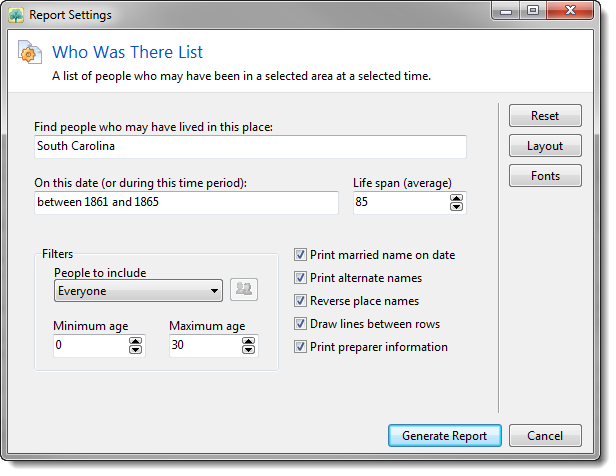 The resulting list would look something like this.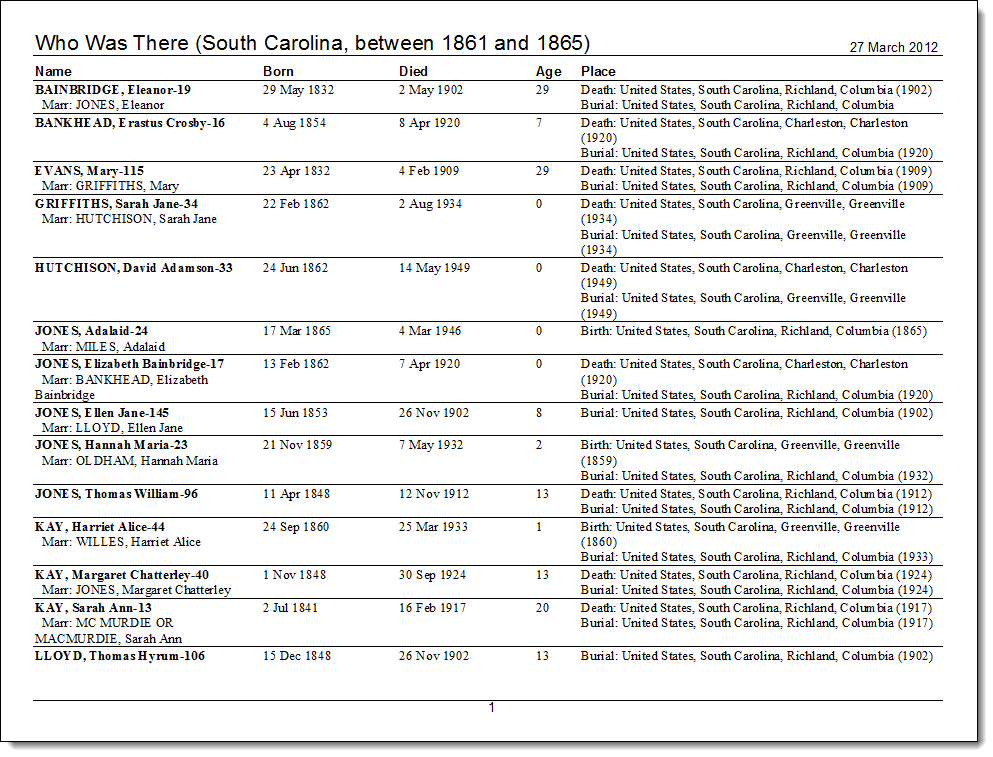 RootsMagic also gives you a "People to include" filter which lets you use any criteria you want to further filter the list.  So if you only wanted males in your direct line, you can do that as well.
So while this is a very easy report to use (just fill in the date and place), it can also be a very powerful tool when used with the various options and filters.  And don't forget that you can always press the "Reset" button on the report options screen if you ever want to go back to the default settings.