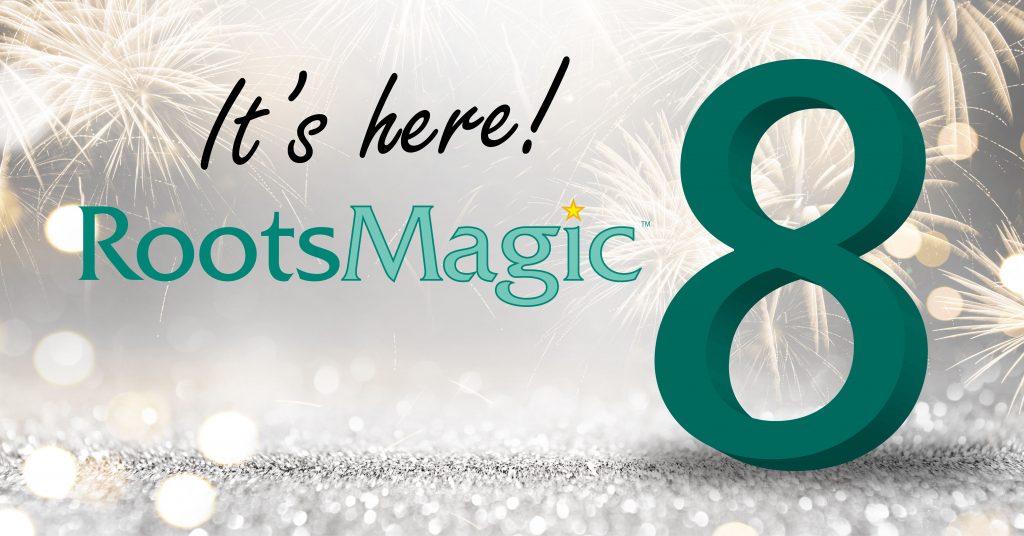 We are thrilled to announce the official release of RootsMagic 8, the latest version of the award-winning genealogy software which makes researching, organizing, and sharing your family history easy and enjoyable. With the release comes an update to the free "RootsMagic Essentials" product, as well as a limited-time discount offer for both new and existing users.
Built For the Future
RootsMagic 8 is the biggest release in our 30-year history. We've rewritten RootsMagic to support the latest genealogical technologies available today while building a foundation for future functionality that would have been impossible with our older code.
Impressive New Features
RootsMagic 8 boasts an impressive list of new features including an all-new interface that supports easily switching between different types of information without losing your place, the ability to edit multiple persons at the same time, native Windows and Mac support, reusable citations, a completely rewritten report engine, and the ability to save reports directly to Word (.docx) or Excel (.xlsx) files.
Other exciting new features include fan charts, streamlined search capabilities, an enhanced person editing experience, and a powerful new task management system.
New RootsMagic Community
We're also excited to announce a new online community for users to connect and ask questions, share ideas, and discuss how to use the RootsMagic software.  The RootsMagic community is based on the Discourse platform and can be found at https://community.rootsmagic.com.  Everyone is welcome to view or read posts, but a free account is required in order to post or comment on messages.
New Webinars
To help users become familiar with the new version and features, we're offering a new series of free webinars; the first being, "What's New in RootsMagic 8". Visit https://rootsmagic.com/webinars to register.
Webinars will also be live-streamed on our YouTube channel and recordings will be available there.
Free "RootsMagic Essentials"
RootsMagic 8 is also available in an updated, free edition named, "RootsMagic 8 Essentials". RootsMagic Essentials is available for both Windows and macOS and contains many core features from the RootsMagic software. The two products are fully compatible with one another.
Many people are curious about their family history and don't know where to begin. RootsMagic Essentials is the perfect way for someone to get started, risk-free. It's available for download at https://www.rootsmagic.com/try .
Discount Offer
RootsMagic 8 is available for only $39.95. Existing RootsMagic and Family Origins users may upgrade for only $29.95.
For a limited time, RootsMagic is offering an additional discount for both full and upgrade copies.  Until October 17, 2021, the full version will be available for $34.95, and upgrade pricing will be $24.95.  After October 17th, the price will return to its regular price.
Thank You
Thank you to all of the users and testers who have worked with us as we've journeyed this long road to get to this point. This wouldn't have been possible without your testing, feedback, and patience. We're excited to finally deliver RootsMagic 8 to you and for the future plans that we have for our software.