Hopefully, you've been able to attend one of our free online classes (webinars).  If not, don't worry- we've recorded them and made them available to view or download online.  Still, we've had many requests to make the recordings available in a convenient CD format.  We've had a tremendous response to our RootsMagic Webinars on CD, Volumes 1 and 2.
So we're pleased to present RootsMagic Webinars on CD, Volumes 3 and 4.  Watch them right from the convenience of your own computer where you can follow along and set your own pace.  No internet connection required!  Don't worry, the downloadable recordings aren't going anywhere.  The CD's are just our way of making them available to you in a more convenient, more permanent format.
Each Volume contains:
Not 1, but

10 complete classes

covering a variety of topics and products

Recordings in

standard .mp4 format

, watchable on most Windows and Mac computers and portable devices

A

browseable menu

of classes with

printable note

s of topics covered in each webinar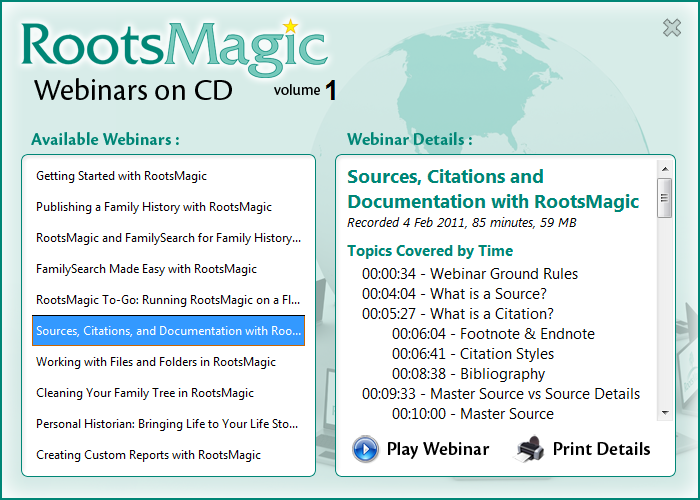 Volume 3
Almost 10 hours of training on 1 computer CD!  Classes include:
Search Techniques in RootsMagic
Pictures and Media in RootsMagic
Research Tools in RootsMagic
Getting Help Using RootsMagic
Running RootsMagic on a Mac
What's New in Personal Historian 2
Creating a Shareable CD
What's New in RootsMagic 5
Fun Family Gifts with RootsMagic, Personal Historian, and Family Atlas
Installing and Updating RootsMagic 5
Volume 4
10 training courses on 1 computer CD!  Classes include:
New Media Tagging in RootsMagic 5
New Source and Citation Features in RootsMagic 5
New "Who was There" Report in RootsMagic 5
New Research Logs and Manager in RootsMagic 5
New Timeline View in RootsMagic 5
Installing and Upgrading to Personal Historian 2
New CountyCheck in RootsMagic 5
New Reports and Options in RootsMagic 5
Creating a 1940 U.S. Census Citation in RootsMagic
How to Find Your Family History in Newspapers with Lisa Louise Cooke
Orders Yours Today
The two volumes are priced at only $9.95 each (+s/h) and are now available to order at
www.rootsmagic.com/webinars/cd
or by calling 1-800-766-8762.  These Webinar CDs are only available while supplies last.