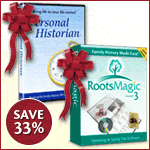 With the holidays coming up, we often get requests from our users about buying copies of RootsMagic for themselves or to give as gifts to their family or friends.  And this year the requests have really come in asking whether the new version 4 will be ready in time for Christmas.  Well, there's bad news and there's good news.
Despite working 16 hour days trying to get RM4 out in time for Christmas, it looks like it probably won't be ready in time.
BUT… here is this year's 5th Annual Holiday Offer (with a special twist).
In what has become something of a tradition, we are offering gift copies of RootsMagic, Personal Historian, or Family Atlas at our $19.95 upgrade price. There is no limit on the number of discounted copies you can buy during this limited time offer which will expire December 19, 2008. You will receive the full program as well as a registration card for each copy you order.
And here is the special twist… every copy of RootsMagic 3 that you buy through this special offer will come with a free download upgrade to version 4 when it is released.  So you will be giving version 3 now, with a free download of version 4 as soon as it is released.
PLUS!  We are adding an offer we have never made before.  In addition to the $19.95 special price, you can also order our RootsMagic Family History Suite (which includes RootsMagic, Personal Historian, and Family Atlas) for just $49.95 (that's $90 worth of software).
To take advantage of this offer, just visit:
http://www.rootsmagic.com/holidayoffer
or order by phone at 1-800-ROOTSMAGIC (1-800-766-8762).