About.com Genealogy is the highest-ranked single contributor genealogy site on the internet.  Kimberly Powell, the curator, does a terrific job keeping it up-to-date with the latest news and tips as well as detailed and valuable lessons and how-to articles.  If you aren't already familiar with this resource, you owe it to yourself to check it out.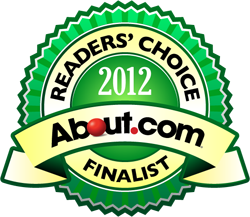 The site is currently hosting the "2013 About Genealogy Readers' Choice Awards".  Readers have nominated their favorites and the finalists have now been chosen in eleven categories, ranging from genealogy software and apps, to websites and blogs.
RootsMagic is a finalist in three categories:
This is a great chance to let the genealogy community know which products and services are most valuable to you.  Just click on the above links to vote.
Don't forget, you can vote once per day in each category.  Voting is open through midnight (EST) on Tuesday, March 19, 2013.  Winners will be announced on March 27, 2013.