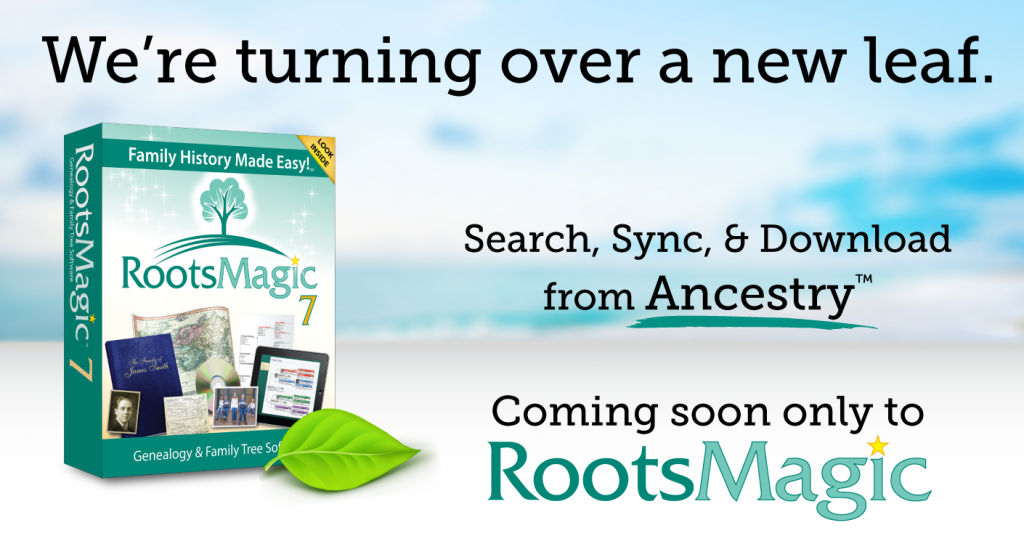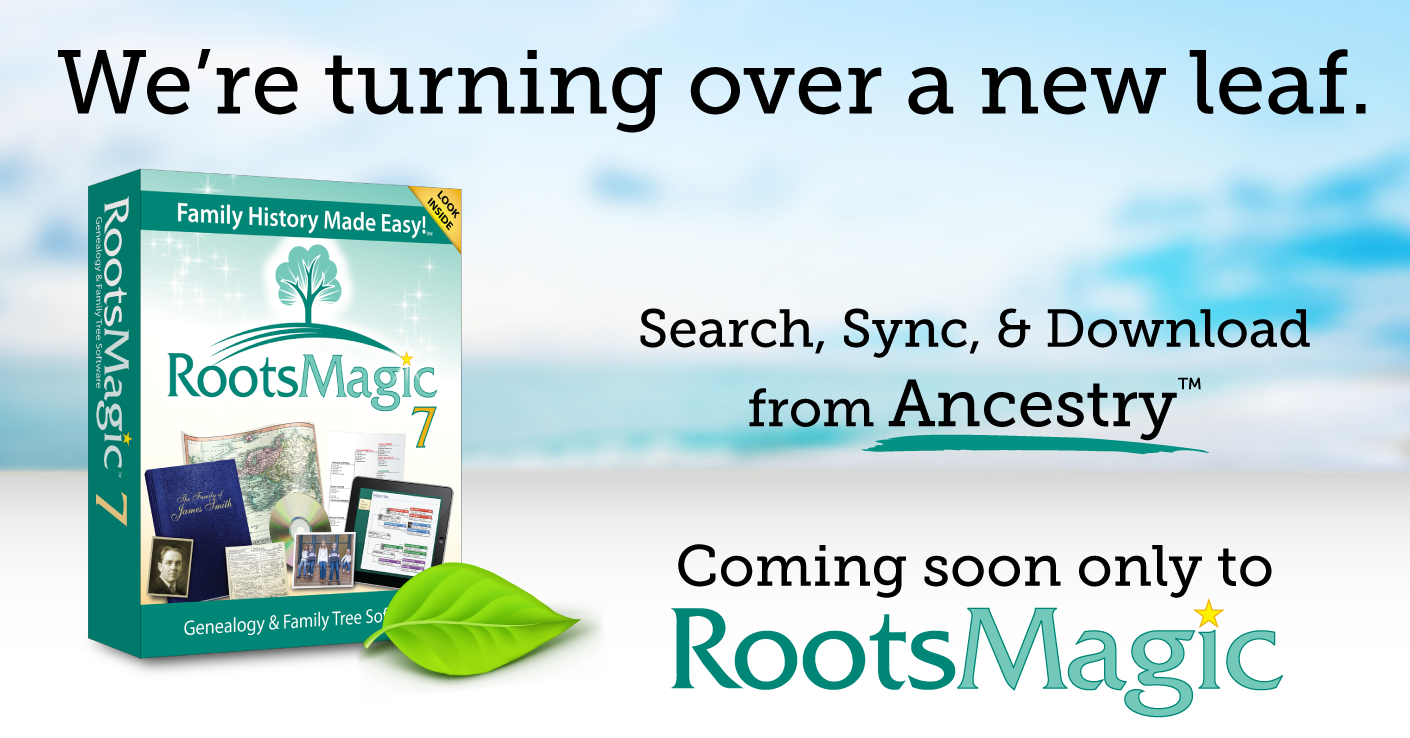 Recently, the genealogy world was rocked with the news that Ancestry would be parting with their "Family Tree Maker" (FTM) genealogy software. Thousands of FTM users have since made the switch to RootsMagic. But the question everyone has been asking has been, "Will any other software be able to search and synchronize with Ancestry the same way that Family Tree Maker did?"
Today, we finally have an answer to that question- "Yes!" We're pleased to announce that we will be working with Ancestry to bring these features to RootsMagic in the near future.
What does this mean for you?

Search – RootsMagic will be the only software besides FTM to search Ancestry's extensive collections of historical records from around the world and let you download those records into your own file.
Sync – RootsMagic will be the only software besides FTM to let you share data between your RootsMagic files on your computer with your personal Ancestry online trees. You'll also be able to download people, events, and even pictures from Ancestry onto your computer through RootsMagic.
Import – RootsMagic will be able to directly import your Family Tree Maker files, without having to go through an intermediate GEDCOM file, giving you the cleanest, most complete transfer of your data. RootsMagic will also be able to download your online trees from Ancestry.
Yes, this is big news and we're sure you have many questions about it.
Questions
Does this mean that Ancestry bought RootsMagic?
No. RootsMagic is still the same independent software maker that we've always been. We've simply arranged to work with our friends at Ancestry to make this happen; just as we work with FamilySearch, MyHeritage, and other genealogy companies.
Why are RootsMagic and Ancestry working together?
This really is a win-win for both companies and their users. RootsMagic users will have convenient access to Ancestry's vast collections of trees and records, as well as synchronizing with private online trees. Former Family Tree Maker users will have a path forward, importing their original FTM files while using the Ancestry hints and trees that they've come to depend on.
Will I have to buy a new version of RootsMagic to use these features?
If you are using the paid version of RootsMagic 7, these features will be included in a free update to that version.  If you are using a version of RootsMagic older than 7, you will need to purchase an upgrade to 7 to use the features.
When will these features be available?
As is to be expected with something this big, it will not happen overnight. Both Ancestry and RootsMagic are dedicating considerable time and resources to make this happen. We anticipate having many of these features available later this year in an update to our RootsMagic 7 software.
Are you the only other genealogy software working with Ancestry?
Besides Family Tree Maker, yes.
What if I don't want to upload my data to Ancestry?
Like all of our integrations with other companies, these features are completely optional. You're free to use or ignore them as you like.
Will I need an Ancestry subscription to use these features?
Use of Ancestry features will require an Ancestry account, even if only as a free Registered Guest. The features and records available to you will depend on your subscription level.
Will I still be able to use RootsMagic to work with FamilySearch, MyHeritage, and other companies?
Of course. This will not affect any existing functionality in the RootsMagic software including sharing data with FamilySearch Family Tree and WebHints. In fact, these relationships give RootsMagic users the ability to access more records from more sources than any other software.
I'm a Family Tree Maker user. Do I have to buy RootsMagic now?
We certainly wouldn't mind if you did 🙂 But seriously, Ancestry has stated that current versions of Family Tree Maker will work with their services through 2016. So you don't have to make the switch immediately.
We invite you to look at RootsMagic and its features and, if you like what you see, you're welcome to make the transition whenever you feel ready. You may be willing to wait until the new Ancestry features are available or you may wish to get started right away. Whenever that time comes, please visit www.rootsmagic.com/ftm for a special discount and instructions to help you make the change.
Will the sync work exactly like TreeSync in FTM?
Ancestry is working on a new API that both RootsMagic and FTM will be switching to ("API" is a fancy word for the system with which Ancestry can communicate with other products).
The API is still in development, buy syncing in both RootsMagic and FTM will likely be a bit different than the current "TreeSync".  It will still allow you to share names, events, notes, sources, and even media between RootsMagic and Ancestry.
Please visit www.rootsmagic.com/ancestry for more information.