We would like to know more about which online genealogical services you use or are interested in.   You would like that pricey genealogy book you've been eyeing on Amazon.com.   We have a solution that could benefit us both.
We've created a brief survey to get your opinions on various online genealogy services and your interest in having RootsMagic work with them.  And when we say "brief", we mean it.  Really, seriously.  It should only take you a minute or two.
In appreciation for your participation, one respondent will be randomly selected to receive a $100 Amazon.com gift certificate.  The winner can use the gift certificate towards anything they want from the world's largest online store!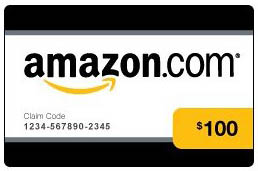 Official Rules: Must be 18 or older to win. Limit 1 entry per person. To enter, complete the survey and include a valid e-mail address. One winner be will be randomly selected on May 1, 2011 at 12:00 MDT. Winner will receive a $100 Amazon.com Gift Certificate via e-mail. Winner is responsible for any taxes or fees associated with the prize.