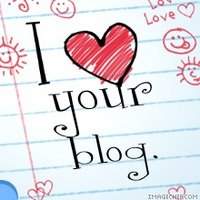 Now this was unexpected.  The Chart Chick and Renee Zamora both tagged us with the "I love your blog" award.  I know this isn't a "new feature" article, but it made me feel good and I already have another article just about ready to go (on Custom Reports in case you are wondering).
The rules for the award are:
1. Can put the logo on his/her blog
2. Must link to the person who gave the award
3. Must nominate 7 other blogs and link to them
4. Must leave a comment on each of the nominated blogs
Now of course we got tagged towards the end of this phenomenon, so the blogs I really like and read have all been tagged already.  So I won't worry about that and will just name some of the ones I enjoy reading.
1. The Genealogue – I'm sure Chris has been tagged dozens of times, but if you haven't read his top ten lists, you don't know what you're missing.
2. Kimberly's Genealogy Blog – The About.com genealogy guide covers every aspect of genealogy, and she's a sweetheart on top of it.
3. Eastman's Online Genealogy Blog – The first genealogy blog I ever subscribed to.  I actually was on his very first newsletter email he sent many years ago, so I'm one of the EOGN natives.
4. Teach Genealogy – Pat Richley's (aka Dear Myrtle's) website designed to help you teach genealogy.  This link is to her actual site where you can access the blog and other information.
5. Family Matters – "Tech support for the Family Historian".  Combining family history and technology.  This is a blog after my own heart.
6. ThinkGenealogy – Mark came up with an idea for RootsMagic 4 that we are still trying to figure out how to implement.
7. Bishie Hotline – OK, so this one is completely out of left field.  This is my daughter's web comic blog.  Most of the time I don't even understand it since it involves Japanese anime characters and seems to be geared towards "fangirls", but I love my daughter and her creative abilities, and therefore her blog.