The awards keep coming in.  Just 3 months after winning its 4th straight GeneAward for Best Genealogy Product of the Year, RootsMagic has won not one, but two 2013 About Genealogy Readers' Choice Awards!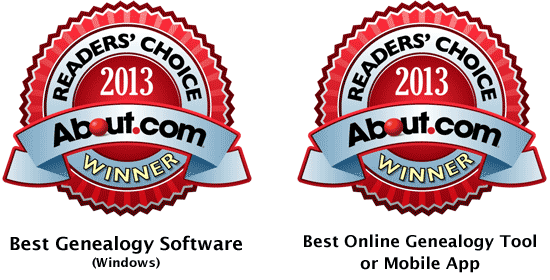 After a month of nominations and voting by the community, RootsMagic received awards for:
About.com Genealogy is the highest-ranked single contributor genealogy site on the internet.  Kimberly Powell, the curator, does a terrific job keeping it up-to-date with the latest news and tips as well as detailed and valuable lessons and how-to articles.  If you aren't already familiar with this resource, you owe it to yourself to check it out.
We'd like to thank all of you who made your voices heard through your votes.  We work hard to bring you the best genealogy features and software available and it's gratifying to see that many of you approve of the job we're doing.  Of course, we're not just sitting around.  We have even more surprises in store to make researching, recording, and sharing your family history even easier!