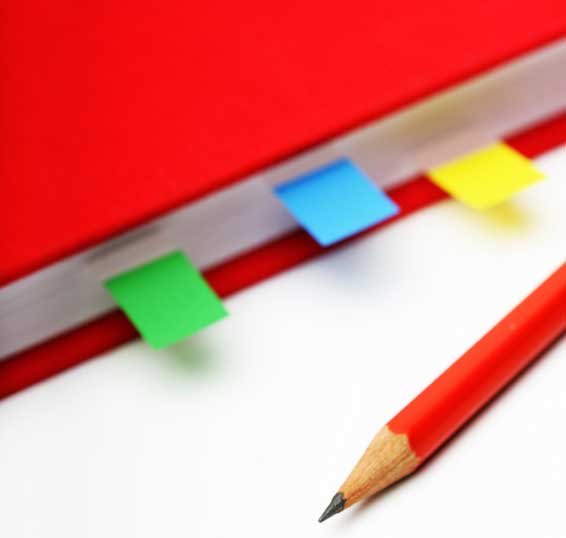 Every person in your family tree is important, right?  As much as we may hate to admit it, sometimes certain persons are more important than others.  For example, imagine wandering around through the outskirts of your family tree when you realize it's time to shut down for the night.  You wish there was a way that you could just pick up where you left off the next time you get on… and there is.
Meet your new friend the "Bookmark".  Bookmarks work just like they sound… highlight a person on any of the main screens, press Ctrl+B (or do "Search > Bookmarks > Bookmark person" from the menu), and RootsMagic will remember that person for you.  Any person you bookmark will be listed in the Bookmarks tab of the side list like this…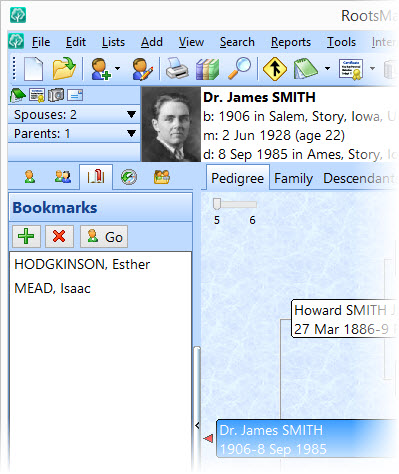 Just select any bookmark in the list and click Go, and RootsMagic will jump directly to that person.  There's no limit as to how many bookmarks you create, although if the list gets too long you'll want to make sure you read last weeks tip on incremental searching.  Your bookmarks are saved with your database so you can keep them as long as you wish, or you can highlight a bookmark in the list and click the red X to delete it.
Bookmarks are also great for when you need to temporarily go somewhere else in your tree and be able to quickly return to the current person.  Just bookmark the person you are on, go do whatever else you need to do in your tree, then quickly jump back to the original bookmarked person.
So remember, while every person in your family tree is important, bookmarks let you mark those that are the most important to you at the time. And, to avoid any hurt feelings, you might want to make sure any living family members don't notice their absence from the bookmark list.