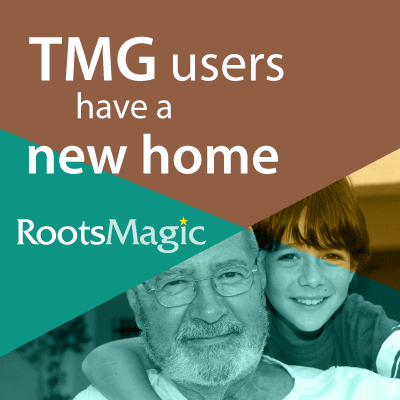 On July 29th, Wholly Genes Software announced that they would be discontinuing "The Master Genealogist" (TMG). Since then, quite a number of TMG users have contacted us directly and on our message boards asking what their options were for converting their data to RootsMagic.  While data can be transferred to RootsMagic via GEDCOM, TMG loses many details as it exports to GEDCOM including witnesses, roles, source templates, and more.
We have just released a new RootsMagic update (v6.3.3) which adds a direct TMG import. This direct import not only imports basic genealogical information from TMG like names, events, notes, and media, but also imports witnesses (with roles), source templates, and sentence templates. In fact, RootsMagic has the most complete TMG import available anywhere. Of course, due to different data models and template languages, no import can be 100% perfect but we have prepared a guide to make the transition as smooth as possible.
And to make it even easier for TMG users to transition to RootsMagic, for a limited time we are offering TMG users a competitive upgrade price of $19.95 for RootsMagic. To find out more information about the TMG import and to get the TMG upgrade price, visit:
We know that change isn't always easy, so if you know a TMG user who is contemplating moving to another genealogy software, feel free to let them know about this update and our special pricing for TMG users.