Spring is slowly coming to RootsMagic headquarters. Snow is melting, plants are peeking out of the ground, and on a good day, we can shed our winter coats as we venture outside.  To celebrate, we are starting "March Mapping Mania". From now through March 31, 2010, you can buy our Family Atlas software for only $19.95 (plus shipping). That's a savings of 33%!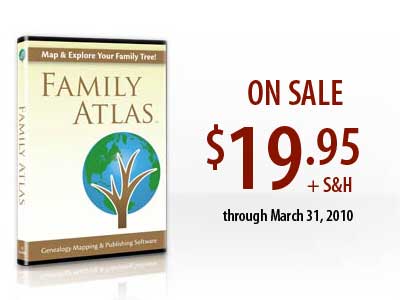 If you've never seen Family Atlas, then you're really missing out. George Morgan of the Genealogy Guys Podcast said, "Family Atlas is a truly stunning new software product. A real winner!"
Family Atlas makes creating custom family maps fun and easy!  You start with an interactive world globe that you can explore.  Family Atlas lets you import your family data directly from RootsMagic or other genealogy software, and then create markers based on relationships, names, event types, and more.  You can even hand-enter set of markers such as "Civil War Battles", "Places Where John Smith Lived", or "Family Vacations".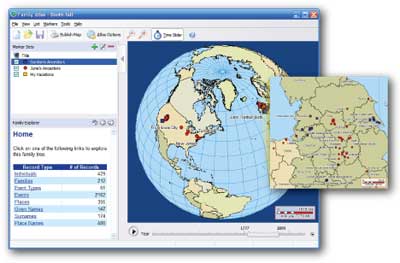 As places are imported or entered by hand, Family Atlas automatically matches them against its list of 3.5 million place names and locates them on the map.
Enhance your maps by adding lines, text, bubble pointers, title, legends and more.  You can even save your customized maps so that you can open and edit or print them later.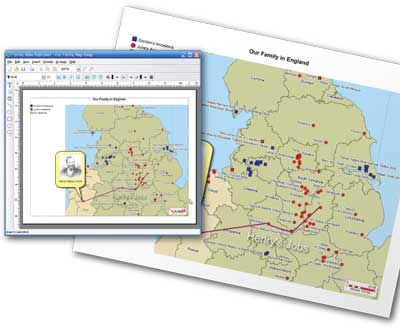 And when you are ready to make your map available for others, Family Atlas lets you print your maps, or save them to PDF or other popular graphics formats.
To see Family Atlas in action, be sure to watch our online video tutorial.
It's never been easier to create completely custom family maps!  And for only $19.95, now is the perfect time to order your own copy of Family Atlas.  But hurry, our Mapping Mania only lasts until March 31, 2010!