One of the most powerful enhancements in version 2 is the Personal Historian Publisher.  The Publisher lets you create complete books, including cover and title pages, table of contents, copyright page, chapters with your stories, indexes and more.
Create Multiple Personal Histories
The Publisher lets you create multiple books from a single file.  When it comes time to print your book you may want to sometimes print every story, or you may want to only print certain stories.  Publisher lets you design custom books, each with their own cover and title pages, their own sets of chapters and selected stories, and their own index.  You can then quickly print different versions of the person's history by selecting one of the books and generating it.  As an example, you might create one book that includes all of the person's stories, another without "private" stories, and another with just the stories in the education category that occurred between the ages of 12 and 19.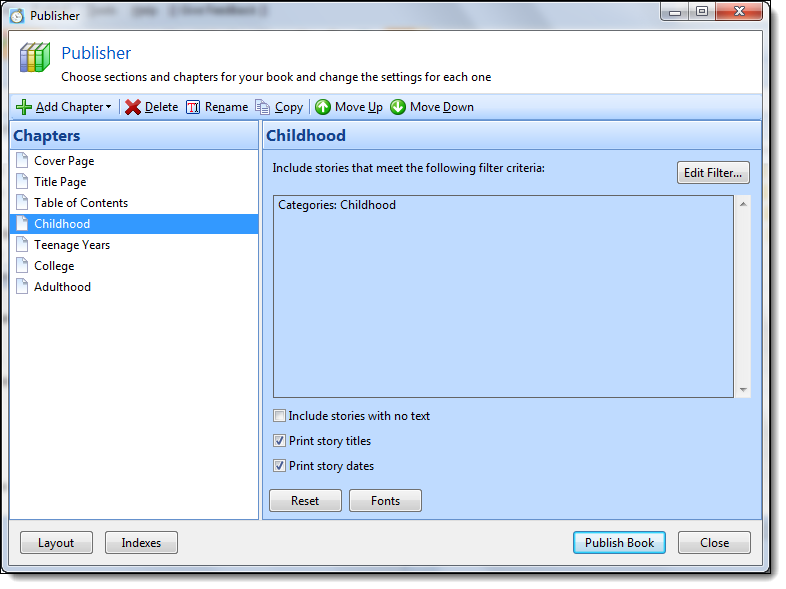 Design Your Own Chapters
Personal Historian can organize your stories in several different ways.  It can group your stories based on their primary category, or group them by the person's age, or not group them at all (by putting them in a single chapter).  You can customize the order the chapters are printed, including just rearranging them by dragging and dropping them.
Add Special Sections
Publisher doesn't limit you to chapters with your stories.  You can also add special sections like a cover and title page, preface, dedication page, and more.  You can even have Personal Historian automatically create a Table of Contents for your book.
If you have tagged your stories with the people and places in those stories, Publisher can even create indexes for your personal history.
Preview Your Books
The Report Viewer shows you on screen what your book will look like on paper.
On the left is a list of thumbnails of each page in the report. You can use the arrow keys or the scroll bar to scroll through each page in the report, or you can use the mouse to scroll down (or up) and go to the desired page.  You can zoom in and out to see more or less detail.
Print or Save Your Books
The Report Viewer makes it easy to print or save your books.  Just click the Print button to send your book to the printer, or click the Save button to save your book as either a PDF (Acrobat) or RTF (Rich Text) file.
Email Your Books
If you want to send a book to friends or family, you can click the Email button on the Report Viewer, and Personal Historian will automatically save your book to file, open your email program, start a new email and attach the book to the email.  All you have to do is enter the email addresses and a short message.
So that's an overview of Personal Historian 2.  In our next post I have one last new "feature" to mention, as well as details about the release, so keep watching.