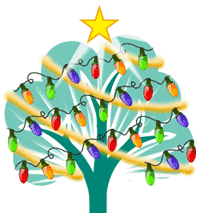 Our special holiday offer continues through December 20th.  With the holidays coming up, we often get requests from our users about buying copies of RootsMagic to give as gifts to their family or friends.  In what has become an annual tradition, RootsMagic owners can buy discounted copies of our software to give as gifts.
Brand New Version 6!
Once again our Holiday Special hits at the exact same time as the release of a new version.  During this special holiday sale, you can order gift copies of RootsMagic 6 for just $19.95 (plus shipping).  Even better, you can order our other products at that same $19.95 price.  There is even a special bundle of our 3 best selling programs (and the RM book) for just $59.95.
There is no limit on the number of discounted gift copies you can buy during this limited time offer which will expire December 20, 2012. You will receive the full program for each copy you order.
To take advantage of this offer, just visit:
http://www.rootsmagic.com/holidayoffer
or order by phone at 1-800-ROOTSMAGIC (1-800-766-8762).
Here are a few resources if you would like more information about the new RootsMagic 6.