One of the most common questions we're asked is, "When can I get RootsMagic on my phone or tablet?"  The answer is, "Today!"  We're pleased to announce the official release of RootsMagic for iPhone, iPad, and iPod touch; a free companion app to our RootsMagic desktop genealogy software.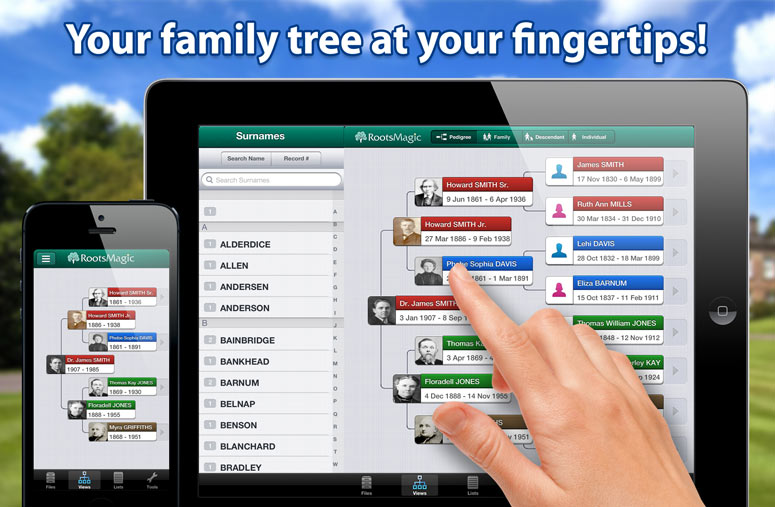 Your Family Tree at Your Fingertips
Now you can easily take and show off your family history with you wherever you go.  RootsMagic lets you carry your genealogy on your iPhone, iPad, and iPod touch!  It's fast, easy, and free!
We're very excited to bring RootsMagic right to your iPhone and iPad.  Not only is this one of the most-requested features from our users, but it is the perfect next step in our mission to simplify family history.  The app provides many useful features including:
Access your actual RootsMagic files via iTunes or Dropbox – RootsMagic for iPhone, iPad, and iPod touch uses your actual RootsMagic files- no conversion needed. You can copy as many files as you want right on your device via iTunes or Dropbox. Users of other genealogy software such as PAF, Family Tree Maker, Legacy Family Tree, and others can convert their files into viewable RootsMagic files using our free desktop software.
Easily search and explore your family tree – Familiar Pedigree, Family, Descendant, and Individual Views help you quickly explore your family tree. You can also search for specific people by name or record number.
View pictures, notes, and sources – All of your RootsMagic data is available inside the app. Touch any name to see more information about that person as well as family members. All of a person's information is there including notes, sources, and pictures.
Lists – Browse lists of your information and view more information about sources, to-do items, research logs, media, addresses, repositories, correspondences, and places.
Tools and Calculators – useful tools to assist you in your research including a perpetual calendar, date calculator, relationship calculator, and soundex calculator.
Watch a Live Demonstration
Don't miss a chance to see a live demonstration of the app and how easy it is to copy your data to your device!  We've scheduled a special online webinar for Tuesday, December 18, 2012 at 4:00 PM MST.  To register, click here.  Be sure to arrive early as only the first 1000 attendees will be able to participate!
New Features and Platforms to Come
We see this as our first step into the mobile world and we're interested in seeing how people use this app and evolving it to meet their needs.

And before we get swamped with e-mails accusing us of neglecting owners of Android devices, rest assured that a version of the app for Android devices will be available in the near future.
Available Now

RootsMagic for iPhone, iPad, and iPod touch is free and now available in the Apple App Store. It does require the RootsMagic desktop family tree software or the free RootsMagic Essentials software to create, edit, or add to your genealogy files. More information is available at http://www.rootsmagic.com/ios.