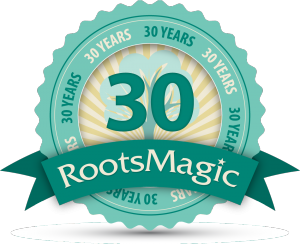 It's our 30th birthday and we asked our users to share about when they first "felt the magic". We received so many great stories and experiences. The staff here at RootsMagic had a difficult time narrowing down the list to only 8. Congratulations to our finalists: Kathy Agard, Sunny O'Bryan, Kelly Leary, Clytee Gold, Patricia (Name withheld), Charlotte Shockey, Kathie Evans, and Valerie N Williams! They have each won autographed copies of RootsMagic and Personal Historian!
But we still have one Shotbox portable light box to give away and we need your help choosing the winner!
Visit our finalists' page to read 8 different stories from our finalists and tell us which one you felt was the best.
The entry that receives the most votes will win the Shotbox portable light box!
Voting is open through Sunday, November 20, 2016. The winner will be announced on Monday, November 21, 2016.