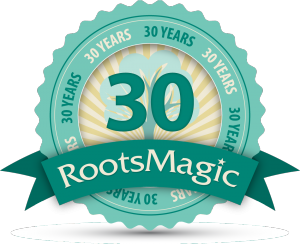 NOTE: This is Part 7 of our ongoing series documenting the history of our company. If you're just joining us, be sure to read Part 1, Part 2, Part 3, Part 4, Part 5, and Part 6.
During the first few years that we licensed Family Origins to Parsons Technology, I built up some good friendships and a solid relationship.  Parsons did a great job of promoting and supporting Family Origins, and I was able to concentrate solely on making it better.
In 1993 I had the opportunity to visit a local company called Automated Archives, which created CDs with genealogy data on them.  They talked about acquiring a genealogy program and asked if I thought they could buy Family Origins.  Since our license with Parsons was exclusive, I told them they would need to talk to Parsons.  But I pointed out that Parsons was a much bigger company than them, and it would be easier for Parsons to buy Automated Archives than vice versa.  I was surprised when they asked if I thought Parsons would be interested in doing that.
I tried to convince Parsons to buy Automated Archives until I was blue in the face, but it was to no avail.  They apparently felt like selling genealogy data on CDs wasn't a money maker.  After Banner Blue bought Automated Archives the next year and started successfully bundling those same data CDs with Family Tree Maker, some of the Parsons higher ups wondered out loud why nobody had brought this to their attention.  Needless to say, they were probably lucky that I lived over a thousand miles from their headquarters.
1994 brought the first of many mergers and acquisitions.  Intuit (the makers of Quicken) had just gone public and acquired TurboTax to add to their portfolio, so it was a bit of a surprise when they also acquired Parsons.  Many Parsons employees thought it was so that Intuit could kill off Parsons' competing accounting and tax programs.  But Intuit claimed they were going to allow Parsons to act as a subsidiary and continue to do business as usual.  Although the marketing of Family Origins was Parsons' job, I worked hard to try and convince Parsons to add "From the makers of Quicken" on the Family Origins ads and packaging, but the closest I could get was "Parsons Technology: An Intuit Company".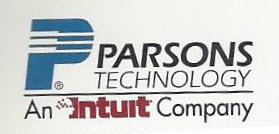 But Intuit was true to their word and not much changed… until the bombshell on May 29, 1997.
I received a call at home from my contact at Parsons.  She sounded worried and told me that Intuit had just sold Parsons to Broderbund.  She had no other details, but the one thing we did know is that Broderbund owned Banner Blue, the makers of Family Tree Maker.  We had just been acquired by our main competitor.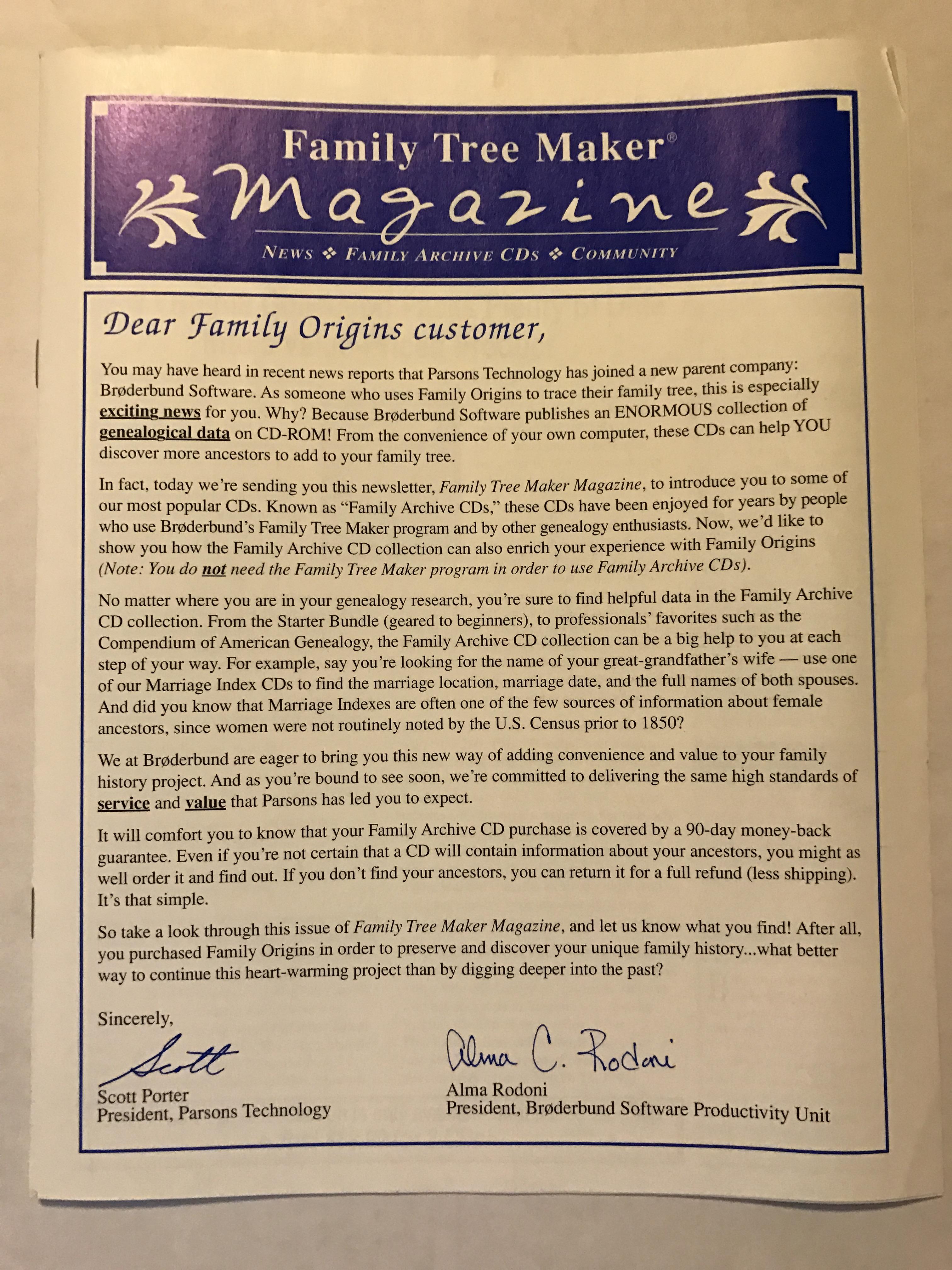 The next few years brought a string of acquisitions, each one bringing more uncertainty about the future of Family Origins.  In 1998, Broderbund was acquired by The Learning Company.  The next year The Learning Company was acquired by Mattel.  Yep, Family Origins was now cousins with Barbie and Hot Wheels.  Every time another company took over, they focused more and more on Family Tree Maker, and less and less on Family Origins.
Finally, in late 1999, Mattel spun off the genealogy products in a partnership with A&E Television networks and several others to create a new company called Genealogy.com.  This new company concentrated totally on Family Tree Maker at the exclusion of everything else.  Not only did they basically ignore Family Origins, they acquired and discontinued numerous competing programs, including Ultimate Family Tree, Family Tree Creator, and others.
During this time customers became increasingly worried about the future of Family Origins.  I even set my company up as a reseller for Genealogy.com, bought my own program from them, and resold it myself on our FormalSoft website.  I tried to reassure customers that Family Origins wasn't going to die even though I was uncertain myself, but I had one advantage over the other programs.  Family Origins was licensed to A&E, but I still held the copyright, which meant they couldn't kill the program, they could only release it back to me.  But this cut both ways; it also meant I couldn't get the program back from them unless they agreed.  And they had no intention of releasing Family Origins back to me to compete with them.
Tensions ran tight between me and A&E.  Their lawyers made it more than clear that even though they weren't promoting Family Origins, they were not going to release us from our licensing agreement.  They were planning on just sitting on the program until it died on its own.  Things got so bad that they even offered to pay me to sign an agreement that I wouldn't badmouth Family Tree Maker (since, as they claimed, I was an "icon in the genealogy community").  I have never badmouthed a competitor publicly (and never will), but I was happy to take their money to agree to do something I would have done anyways.
Finally, after several years of stress, it became clear that I was never going to be able to get Family Origins back.  And since my licensing agreement said they were entitled to sell any upgrades I wrote, I had only two options.  I could either wait for Family Origins to slowly die, or I could buy a new computer, lock up the one with the Family Origins source code, and start writing a new genealogy program completely from scratch (so that it didn't qualify as an "upgrade").  Call it stubbornness, or call it vindictiveness, but I had no intention of going down without a fight.
Next: The birth of RootsMagic