RootsMagic users have been patiently (and sometimes impatiently) awaiting news of our latest version- RootsMagic 8. While we aren't quite ready for an official release, we want to start pulling back the curtain and share some of version 8's exciting new features.
First of all, we know that this release has been a long-time coming. But we haven't been sitting around, resting on our laurels. We've been rethinking, redesigning, and rebuilding the interface to address the most common questions and problems our users have shared with us. Our focus has been on these main ideas: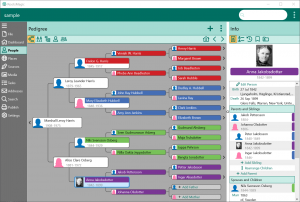 Make the software easier-to-use. Fewer screens, fewer clicks, and less hunting around to find what you're looking for and to do what you want to do.
Take advantage of more modern computers, operating systems, and devices. Technology has changed a lot in the 30 years that we've been making software. RootsMagic 8 supports better graphics, touch-screens, faster processors, and high-resolution displays. This ensures that RootsMagic will be useful and relevant for years to come.
And of course, there is "one more thing" that should make our fans of "fruit" happy: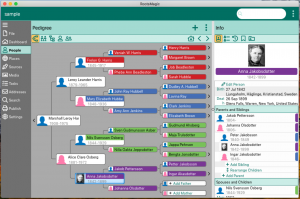 And yes- your RootsMagic 8 license covers both the Windows and Mac versions!
How Do I Get RootsMagic 8?
While RootsMagic 8 is not yet available for purchase, every copy of RootsMagic 7 now comes with a free registration key for RootsMagic 8. Just a heads up- there will be a modest price increase for version 8. But you can buy RootsMagic 7 now (even if you already have it) and get your RootsMagic 8 at today's lower prices!



Can I Be a Tester for RootsMagic 8?
Currently, Version 8 is being tested by a dedicated group of testers. As it becomes more stable, we gradually expand this group until we feel it is ready for official release. If you love trying out new things and are patient enough to work with us through the process of finding and fixing quirks and problems, we'd love to have you as a tester. To sign up, just fill out the form at www.rootsmagic8.com. Don't worry if you don't hear from us right away as we add testers over time.

More Previews to Come
Watch this blog for regular articles describing more amazing new features in RootsMagic 8. Thanks to you, our users, for your support and feedback. We are very excited for this release and can't wait to show you more!