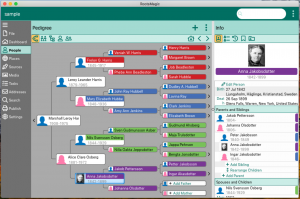 Last week, we gave you a first look at RootsMagic 8. While we're itching to start showing you more details and features, last week's article prompted many questions about RootsMagic and the upgrade process. We felt it would be helpful to answer some of the questions for you before showing you more features. So without any further ado, here they are:
I already own RootsMagic 7 (or 6, or 5, or 4, etc.). Will I need to buy RootsMagic 8 when it comes out?
Yes, but at a discounted price. Our policy has always been to make updates free. That is, going from 7.0 to 7.1, to 7.2, to 7.3, etc. We put those out regularly to fix bugs, update API's, and to even add new features (Our TreeShare for Ancestry was a free new feature in 7.5).
Major upgrades, such as going from 7.0 to 8.0, do require a purchase. However, we always offer a significant discount to those upgrading from previous versions. For example, to upgrade from any prior version of RootsMagic to version 7 has been $19.95 where the full price of the software is $29.95.
Do I have to upgrade to RootsMagic 8?
Not at all. If the new features and functionality in RootsMagic 8 appeal to you, we'd love for you to upgrade. If you decide to stick with your current version of RootsMagic, your software will continue running just as it has. It will simply not have any more updates as our development work has moved on to the next version.
How much will RootsMagic 8 cost?
Version 8 will have a modest price increase from earlier versions. While we haven't announced the actual pricing for RootsMagic 8, it will be more than version 7. RootsMagic 8 will have a discount for users of previous versions upgrading to it, but this will be modestly higher than the current $19.95 upgrade price for version 7.
So if I buy RootsMagic 7 now, I get RootsMagic 8 for free?
Yes. We have always had an "upgrade protection guarantee." If you buy our software and a newer version comes out soon afterward, you get the newer version for free. I've personally spent a sizable sum of money on software only to have a new version come out the very next day. That company's response was, "You're out of luck." We love our users too much to do that.
If you buy RootsMagic 7 now through our website (either the full version or upgrade), you will receive an email with your key for RootsMagic 7. You'll also immediately receive a key for RootsMagic 8. Just hold onto that key until you get word that RootsMagic 8 has been officially released. This means that you are essentially getting a free RootsMagic 8 at today's RootsMagic 7 prices.

I already have RootsMagic 7. Can I still get a free RootsMagic 8?
Yes. Even if you already have RootsMagic 7, you are welcome to purchase another copy of RootsMagic 7 (even at the $19.95 upgrade price), and you will get your key for RootsMagic 8.
Wait- you want me to pay money now for a future RootsMagic that I may not even like? Is this some tricky money grab?
You would indeed be getting an upgrade to Version 8 that you don't (yet) know much about. (But, really- we think you'll love it) But this is definitely not a money grab. In fact, we are losing money by giving away RootsMagic 8 upgrades at the lower price. So why are we doing this?
We haven't raised our software price in the nearly 20 years that RootsMagic has been available. All-around costs have risen in those years, and we need to follow suit. However, we also know that we have many users that live on fixed-incomes. We didn't want to surprise everyone with the price increase without giving a heads-up and giving our users a chance to make appropriate plans.
Combine this with the upgrade protection guarantee, and the "Buy RootsMagic 7 now, get RootsMagic 8 free" policy is the natural result. It's only us trying to do right by our users.
I've placed my order and received my RootsMagic 8 key. What do I do now?
Just hold on to that key and patiently wait for the official release. You could also sign up to become a tester at www.rootsmagic8.com.

More Previews to Come
Hopefully, we've answered some of those burning questions that many of you have had about the upgrade process to version 8.  And watch this blog for regular articles describing the fantastic new features in RootsMagic 8!
Next: The Road to RootsMagic 8 (Part 3): Getting Around