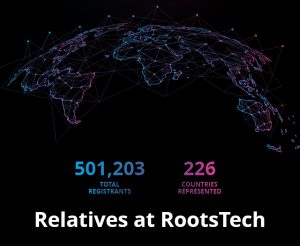 Current conditions prohibit large in-person genealogy conferences and events but that isn't stopping RootsTech. The world's largest genealogy conference is going online this year and, for the first time, is completely free!
"RootsTech Connect" runs February 25-27, 2021 at www.RootsTech.org. It has an impressive list of keynote speakers and over 1500 class sessions in 9 different categories.
Relatives at RootsTech
There is also an improved "Relatives at RootsTech" feature that lets you see how you're related to the other 500,000+ RootsTech attendees. Just use RootsMagic to update FamilySearch Family Tree to see how you connect to interested genealogists around the world.
Special RootsMagic Discount
While RootsTech Connect does have a virtual expo hall, we've been putting all of our time and efforts towards getting RootsMagic 8 ready and, unfortunately, don't have a virtual booth this year.
However, we're pleased to offer our users the same special discount that we usually give at the in-person RootsTech event. You'll get RootsMagic 7 Download and Getting the Most Out of RootsMagic 7 eBook (a $45 value) for only $20!
Plus, you will receive a free download of RootsMagic 8 when it is released (currently in Community Preview). This means that you can reserve a future copy of Version 8 at today's lower Version 7 price!
So connect with others around the world at RootsTech Connect and take advantage of our special offer today!