We are thrilled to announce the official release of RootsMagic 9, the latest version of the award-winning genealogy software, which makes researching, organizing, and sharing your family history easy and enjoyable. With the release comes an update to the free "RootsMagic Essentials" product and a limited-time discount offer for both new and existing users.

NOTE: The limited-time discount has expired since the publication of this article.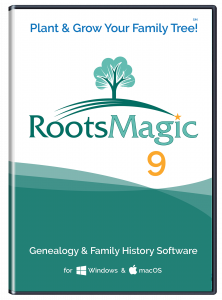 Impressive New Features
RootsMagic 9 includes exciting new features that will help you to discover more about your family history.
With our innovative new "Associations" feature, you can track more than just family relationships. This powerful tool lets you record friends, associates, neighbors, enslavements, and more, giving you a more complete picture of your ancestors and their connections.
Enhanced color coding with multiple color code sets and color labeling makes it easier to identify different branches of your family tree and see relationships at a glance.
With the ability to save and reuse search criteria and task filters, you can quickly access frequently used searches and save time on your research.
RootsMagic 9 also includes powerful new database tools, which can help you to identify and correct errors in your family tree data. This can lead to a more accurate family tree and more informed research.
The RootsMagic 9 note editor has been completely rewritten to be more responsive and now includes spell-checking.
For Windows users, RootsMagic 9 is now available in 32-bit and 64-bit formats.
And RootsMagic 9 includes dozens of new features designed to make working with your data faster, easier, and more enjoyable.
New Book
We're also excited to announce the return of our "Getting the Most Out of RootsMagic" book, written especially for RootsMagic 9.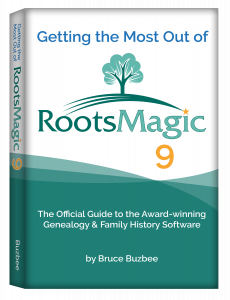 Many people barely touch the tip of the iceberg of RootsMagic's features. If you are one of these people, "Getting the Most Out of RootsMagic 9" is the book for you. You start with basic data entry and continue by learning advanced techniques such as custom reports, citing sources, research tasks, creating user-defined facts, powerful tools, and much more.
"Getting the Most Out of RootsMagic 9" is available for $19.95 and is printed and shipped by Amazon.com.
New Videos
To help users become familiar with the new version and features, we've created a new set of free tutorial videos, including "Getting Started with RootsMagic," "What's New in RootsMagic 9," and shorter videos showing individual features in more depth.
Free "RootsMagic Essentials"
RootsMagic 9 is also available in an updated, free edition named "RootsMagic 9 Essentials". RootsMagic Essentials is available for both Windows and macOS and contains many core features from the RootsMagic software. The two products are fully compatible with one another.
Many people are curious about their family history and don't know where to begin. RootsMagic Essentials is the perfect way for someone to get started risk-free. It's available for download at https://rootsmagic.com/try.
Discount Offer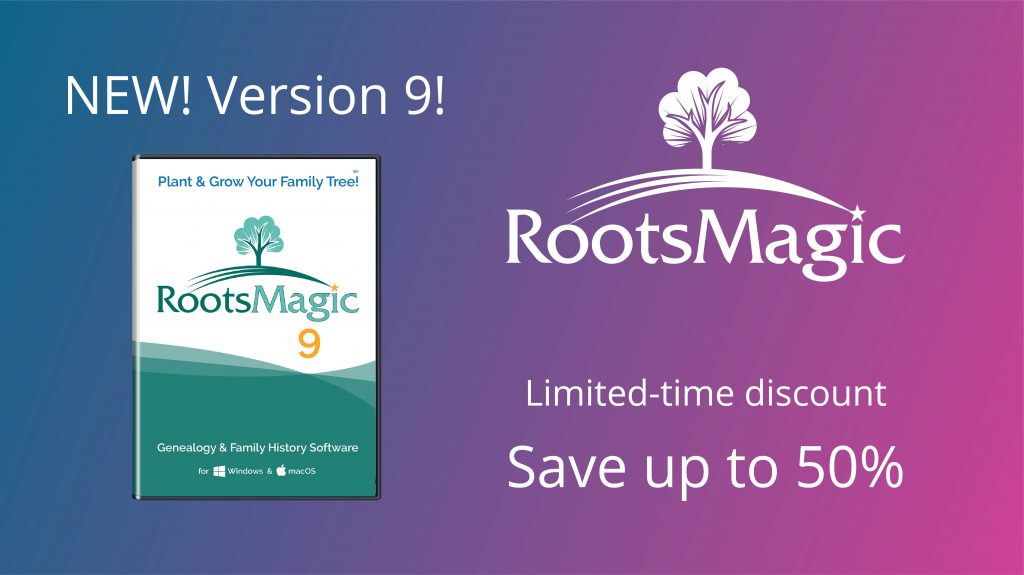 RootsMagic 9 is normally available for only $39.95. Existing RootsMagic and Family Origins users may upgrade for only $29.95.
But for a very limited time, RootsMagic is offering RootsMagic 9 at the special price of $20. Until Friday, March 10th, 2023 at 11:59PM Mountain time, any customer may purchase RootsMagic at this special $20 price. After March 10, RootsMagic 9 will return to its regular price, with the standard discount for upgrades.
Join the thousands of family historians who trust RootsMagic as the place to plant their family tree and get RootsMagic 9 today!