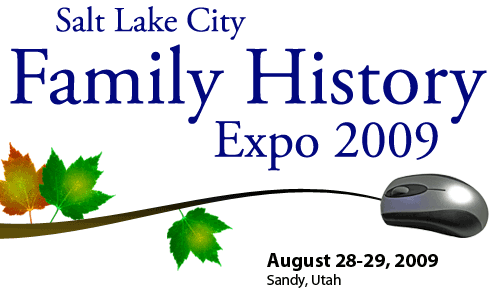 Come join us at the Salt Lake Family History Expo August 28-29, 2009 at the South Towne Exposition Center in Sandy, Utah.  Visit our booth, attend our classes, or take away one of our over $1,000 worth of prizes!
Free Exhibit Hall!
Visit us at the RootsMagic booth in the Expo's exhibit hall and experts will be on hand to answer questions about the RootsMagic software.  Don't miss special conference discounts on various RootsMagic products. The Exhibit Hall also features family history vendors from across the world. The Exhibit Hall is free to the public and is open:
Friday, August 28: 9 am – 6 pm
Saturday, August 29: 9 am – 5:30 pm
Free RootsMagic Classes!
Come learn about the new features in RootsMagic 4 ( including our award-winning integration with New FamilySearch) in 3 free classes.  That's right, these classes are FREE to anyone (but you do have to come pick up a ticket from our booth to attend).
New FamilySearch Made Easy with RootsMagic 4 – Friday 11:30 am
What's New in RootsMagic 4 – Saturday 8:00 am
Sharing and Publishing Your Family History with RootsMagic 4 – Saturday 2:30pm
We are also teaching a couple of other classes as well:
Personal Historian: Bringing Life to Your Life Stories – Friday 3:00pm
Where in the World? GPS and the Genealogist – Saturday 11:00am
Fun Prizes!
And to help show off some of the great features in RootsMagic 4, we're going to give away these great prizes in each of our free RootsMagic classes.
Two 4GB flash drives pre-installed with RootsMagic 4.  That's right, RootsMagic 4 will run directly off a flash drive.  And with the included RootsMagic To-Go program you can easily transfer your data back and forth between your desktop computer and your flash drive as well.
Two copies of Evidence Explained (a $50 value each) to highlight the updated SourceWizard in RootsMagic 4.  It will automatically write your sources in Evidence Explained, Evidence!, Cite Your Sources, or other formats, as well as let you create your own custom formats.  And it's easy to use!
Two $25 gift certificates from Generation Maps.  Generation Maps makes it easy to print those large wall charts you've created in RootsMagic 4.
Plus a bunch of stuff just for fun: RootsMagic tote bags, badge holders, genealogy ties, and more!
Other Classes!
Over 100 other classes will be presented by industry leaders and experts from the local and national genealogical community.  Products and services from genealogy companies will also be showcased in an exhibit hall where you can meet with specialists for free personal consultations on research questions or problems.
If you wish to attend the other classes, pre-registration is just $68.00 through August 24.  After August 24, you may register at the door. The cost at the door will be $78.00 for both days and $48.00 per day. Individuals who want to attend only one or two classes and visit the Exhibit Hall can register for single classes at $12.00 each.
Expo details and the class schedule are available online at: www.FHExpos.com.
Tags: Conferences, RootsMagic