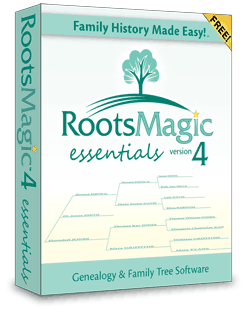 "RootsMagic Essentials" Brings Free Tools for Family History
SPRINGVILLE, Utah. — November 18, 2009 — RootsMagic, Inc. announced the immediate availability of RootsMagic Essentials, free desktop genealogy software based on their award-winning RootsMagic 4 system.  RootsMagic Essentials contains many core features found in its namesake that allow the public to easily start tracing their family trees.
Essential Features for Everyone
"Many of our users have told us that they have friends and family members who are interested in getting started in family history but aren't ready to invest in a more comprehensive package like RootsMagic," said Bruce Buzbee, president.  "RootsMagic Essentials gives them the features they need to start researching and recording their family tree at a price that can't be beat—free!"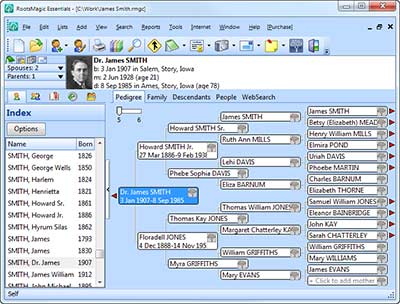 RootsMagic Essentials shares many of the same features with the full RootsMagic software including clean and friendly screens, the ability to add an unlimited number of people and events, pictures and media management, the SourceWizard to write your source citations for you, powerful merging and clean-up tools, dozens of reports and charts, support for international character sets, FamilySearch integration, and the ability to share data with other people and software programs.  The full version of RootsMagic is available for purchase and includes features not available in RootsMagic Essentials.
Free and Available Now
RootsMagic Essentials is available now for free at http://www.rootsmagic.com.  Users of other genealogy software products will find it easy to experiment with RootsMagic Essentials using their own data.  RootsMagic Essentials can directly import data from PAF, Family Tree Maker (through 2006), Family Origins, and Legacy Family Tree.  It can also read and write data using the popular GEDCOM format.
"We're excited to make RootsMagic Essentials available to the community," said Michael Booth, vice-president.  "Our mission is to provide 'software to unite families' and our hope is that RootsMagic Essentials will encourage more people to record their family trees and connect with their family histories".
About RootsMagic, Inc.
For over 20 years, RootsMagic, Inc. has been creating computer software with a special purpose—to unite families.  One of our earliest products- the popular "Family Origins" software, introduced thousands of people to the joy and excitement of family history.
That tradition continues today with "RootsMagic", our award-winning genealogy software which makes researching, organizing, and sharing your family history fun and easy.  "Personal Historian" will help you easily write and preserve your life stories.  "Family Reunion Organizer" takes the headaches out of planning those important get-togethers.  And "Family Atlas" creates beautiful and educational geographic maps of your family history.
For more information, visit http://www.rootsmagic.com.
Source: RootsMagic, Inc.