In today's look at the upcoming RootsMagic 8, we'll look at the main screen. Specifically, the gray navigation bar found on the left side.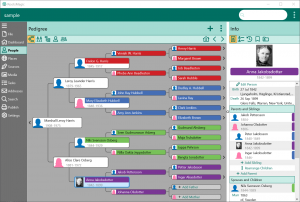 As mentioned before, in designing RootsMagic 8, we wanted to make the software even easier-to-use. We started by looking at questions asked by our users through our technical support, Facebook group, and other means of contact. We looked for patterns and common problems and issues that users had.
We were surprised at how many "How do I find…" questions there were. Even more surprising was how many feature requests we had for features which were already in the software- they were just hidden behind several screens and menus. We knew that version 8 needed to better help users find their information and use its many features.
We then listed all the different features and, after studying the best user-interface practices, were able to group all the elements into a few distinct categories. These formed the basis for the new "Navigation Bar."

The Navigation Bar has 11 items: File, Dashboard, People, Places, Sources, Media, Tasks, Addresses, Search, Publish, and Settings. All information and features can be quickly accessed from the corresponding area on the Navigation Bar.
And once you are comfortable with it, you can also collapse the Navigation Bar to show only the icons, giving you more space to do your work.
In our next installments, we'll look at each of these 11 items in more detail so stay tuned!