Media Album
An old adage says that a picture is worth a thousand words. So here are 3000 words worth of pictures about RootsMagic 4's new multimedia features. As in previous versions of RootsMagic, you can add pictures or other media to people, families, sources, citations, events, or places. Here's what the new Media Album looks like (click the image if you want to see it without squinting):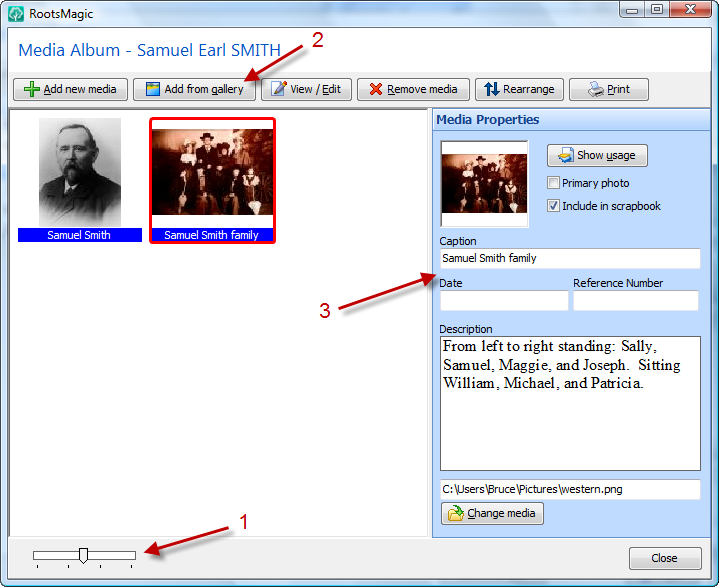 The first thing long time RootsMagic users will notice is that you aren't limited to viewing 6 pictures at a time for a person. Not only can you scroll to view all the pictures for a person, you can also adjust the size of the thumbnails by simply (1) dragging the slider at the bottom of the album.
If you've ever added a family picture to each member of the family, and had to re-enter that nice detailed description over and over, you'll love the new RootsMagic 4 Media Gallery. Every time you add a picture to a person (or other item) RootsMagic 4 keeps track of the photo so that you can re-use the same picture along with its caption, description, and other information. When adding a new picture to a person, just click "Add from gallery" (2) to re-use an existing media item.
Selecting a media item will display its details (caption, description, file name, etc) in the (3) live edit panel.
Media Gallery
If you want to see all the pictures you have added, just bring up the master Media Gallery.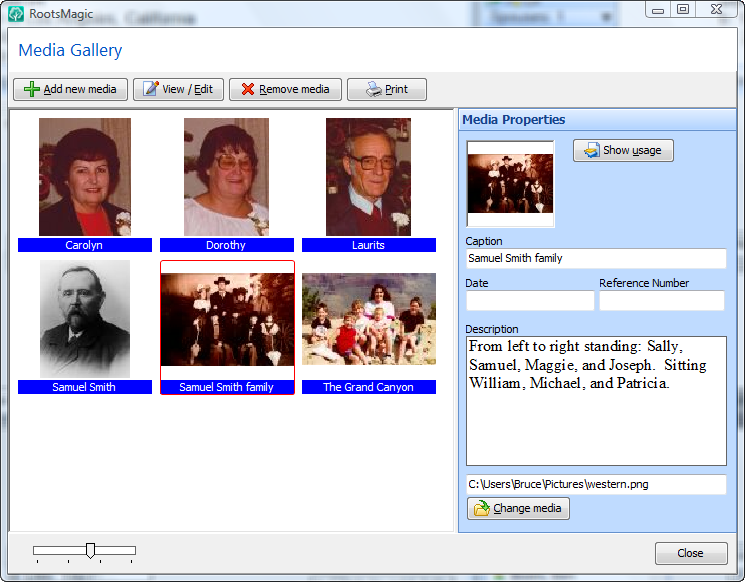 Not only can you see all your media, but you can also click the "Show usage" button to get a list of every place in your file that the highlighted media is referenced.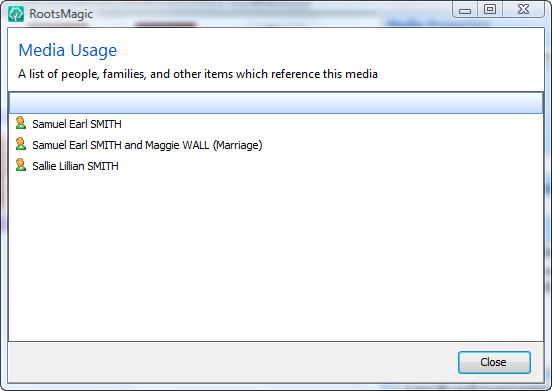 I'm on my way to Indianapolis for my third conference in 3 weeks (which I will attempt to pass off as my excuse for not spilling the beans as quickly as I would like). I will try to pick up the pace a bit. We still have a ton of cool new features to cover.
By the way, if you have a friend you've been trying to convert to RootsMagic, let them know about our blog. We'll help you out with that <g>.