OK, so here's a feature we have gotten a lot of requests for, and in RootsMagic 4 we're going to deliver it.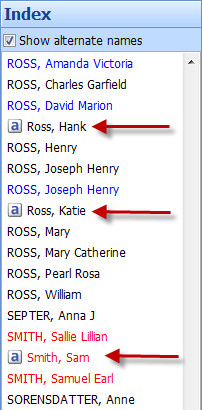 If you have ever added alternate names for people in your database, you can now have those alternate names appear in lists of people (like the RootsMagic Explorer). If you think you might get confused having a person appear under their multiple names in the lists, just unmark the "Show alternate names" checkbox and it will only list each person once under their primary name.
Clicking on an alternate name in the list will take you to the same place that clicking on the primary name would. It's just that you can now find people by all those other names they may have been known as during their lifetime.
Stay tuned for more cool stuff. And thanks for telling your friends and families to check out what will be our biggest upgrade ever.