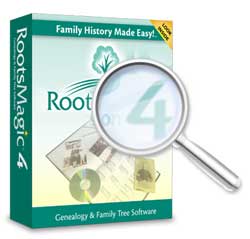 I decided that since everyone else has an "insider", it was time to have our own. Every effort has been made to conceal my identity as I share secrets from deep within the company.
Did you know that RootsMagic 4 is rumored to be coming out sometime? Just read our message boards if you don't believe me. But others have questioned whether we are spending all our time on cruises instead of working on version 4 (shameless plug… here is info on our next cruise).
Well now you have an insider on your side. I'm going to tell you everything you would want to know about RootsMagic 4, and even give a few of you a chance to win a free copy when it is released.
So here's the inside scoop… RootsMagic 4 *is* coming. I know you wanted that sentence to have "on <date>" at the end of it, but insiders need job security too.
I will tell you that RootsMagic 4 is our biggest upgrade ever (yes, that means we haven't been spending all our time on that one RootsMagic cruise).
As your faithful insider, I will show you all the new features coming in RootsMagic 4. And by "show you" I mean with real screen shots and descriptions. But as a big tease, I'm going to start with the itsy bitsy new features and work up to the big (really cool) ones. So keep coming back, or better yet subscribe with one of those pretty buttons over on the right side of the home page.
And if you're new to subscribing to blogs, here's a great video that makes it easy to understand. Click that big arrow in the middle of the video to start it.