Have you ever been entering a place and wished you knew what county, province, state or country the place was in?  RootsMagic 4 now provides a worldwide place database with 3.5 million places in it.  Just pop up the place search and enter what you know about the place and RootsMagic will display matching places.  Select a place and click OK and RootsMagic will paste the fully standardized place into the place field for you.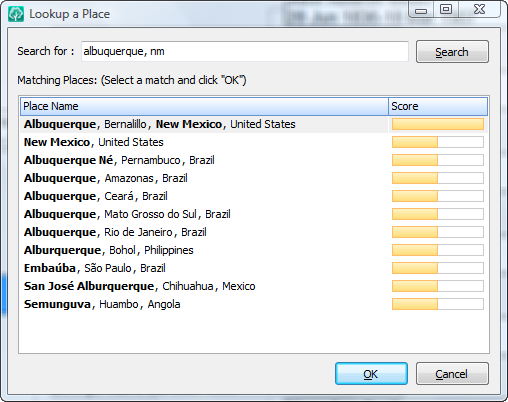 But what if you don't want a full "standardized" place (like if you have an historical place name)?  When you edit a place from the master place list, you can enter the place 1) the way you want it normally displayed, 2) as a standardized place, and 3) as an abbreviated version of the place.  Of course the standardized and abbreviated places are both optional.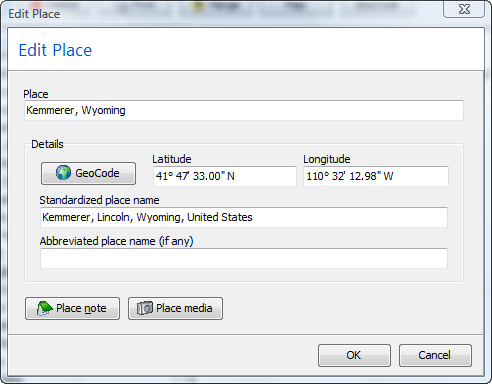 I'm guessing a lot of you noticed the "GeoCode" button on the Edit Place screen above.  Clicking that button in RootsMagic 4 will geocode your place for you.  Geocode just means that RootsMagic will check its 3.5 million place name database to find a match for your place, and insert the latitude, longitude, and standardized place name for you.  Now of course we won't make you geocode your database one place at a time.  RootsMagic 4 can also geocode your entire database, and let you hand pick the places that are ambiguous.
And finally, RootsMagic 4 offers a gazetteer on the tools menu to look up any place in the world.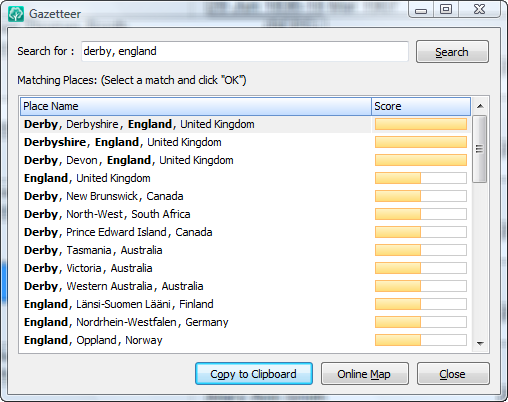 We know how much current RootsMagic users like the free PlaceFinder program we've included all these years.  Think of the Gazetteer as a world-wide PlaceFinder on steroids.  Like the Place Search above, just type in as much of the place as you know and click Search.  The Gazetteer will show you all matches, and will even let you view an online map of any of those matching places (you need to be online to view the online map of course).
Think we're done with places?  You'll need to check out my next blog entry to find out.