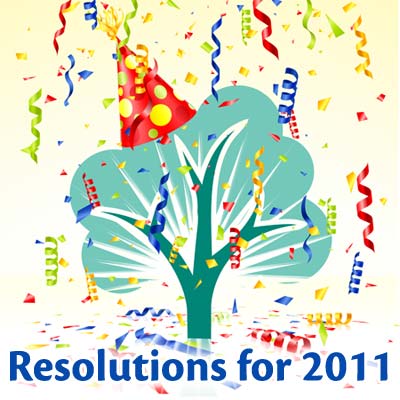 Welcome to 2011!  With 2010 in the rear-view mirror, let's look ahead to 2011 and some of our goals and resolutions for the coming year.
More Growth
We're determined to build upon the tremendous growth we've experienced over the past few years. In 2011, we'll provide more free updates, product upgrades, and even a few new surprises. It's too early to spill the beans on all that we have cooking in our kitchen but watch this blog or our e-mail newsletter for announcements.
More Contact
We've always tried to be accessible and in touch with our users as much as possible. We offer free phone support with live people, e-mail support, and a message board.
We travel to conferences and events to meet with people face-to-face. We teach classes and coordinate user groups to help our users better use the software.
But with the tremendous growth that we've experienced in the past few years, maintaining this level of support and contact has been- at times- challenging. One of our goals for 2011 is to make our lines of contact with our users even better- especially with those that, due to their location or circumstances, aren't able to meet with us at a conference, class, or user group.
In a perfect world, we would personally sit down with every RootsMagic user in their homes. Since we just haven't gotten the cloning process down well enough to do that yet, we're doing the next best thing. We are going to start offering free online RootsMagic classes, also known as "webinars". You will be able to sit at your computer and watch as we present classes on everything from getting started with RootsMagic to advanced features like creating custom reports, and everything in between. We'll also be able to answer questions from attendees.
Each class will be limited to the first 1000 people to sign up, but if you miss out or can't make it, don't worry because we will record the class for you to download and watch later. So keep an eye out for the January newsletter where we will provide all the details on how to sign up for these free classes.  We'd also like to know more about what you would like to learn and when are the best times to hold the webinars. We've set up a short survey so that you can let us know your needs.
Thank You!
Of course, these resolutions are not a comprehensive list of our plans and goals for 2011. There are many other projects which are in development in our secret underground laboratories which we'll talk about when the time is right. In the meantime, thank you again for your support. We try very hard to listen to your problems, questions, and suggestions. If there is something that you'd like to see us do, please contact us and let us know.
Happy New Year and may you have a prosperous 2011 (both genealogically and otherwise)!