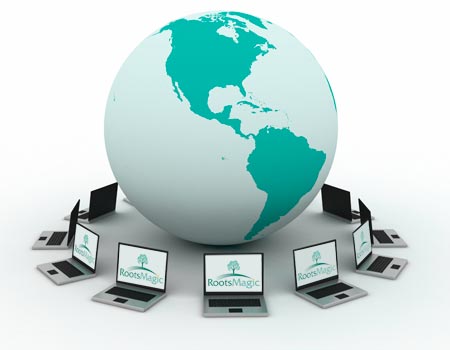 Throughout the year we travel to various cities teaching RootsMagic classes.  We are always asked when we will be visiting different areas of the country (or world).  The simple answer is that we just haven't gotten the cloning process down well enough to do that yet.
So we're doing the next best thing.  We are now offering free online classes.  You will be able to sit at your computer and watch as we present classes on everything from getting started with RootsMagic to advanced features like creating custom reports, and everything in between.  We'll also be able to answer questions from attendees.  And classes won't be limited to just RootsMagic.  We will be offering classes on our other products as well: Personal Historian, Family Atlas, and Family Reunion Organizer.
Each class will be limited to the first 1000 people to sign up, but if you miss out or can't make it, don't worry because we will record the class for you to download and watch later.
To sign up for the free classes, or to view past recorded classes, visit us at:
http://www.rootsmagic.com/webinars
Here are the first 5 classes we will be offering:
Getting Started with RootsMagic
Saturday, January 8, 2011
90 minutes
Publishing a Family History with RootsMagic
Tuesday, January 11, 2011
90 minutes
FamilySearch Made Easy with RootsMagic
Tuesday, January 18, 2011
6pm MST See In Your Time Zone
2 hours
RootsMagic To-Go: Running RootsMagic on a Flash Drive
Monday, January 24, 2011
2pm MST See In Your Time Zone
90 minutes
Sources, Citations, and Documentation with RootsMagic
Friday, February 4, 2011
10am MST See In Your Time Zone
90 minutes
What Do you Want Us to Teach?
We have put together the first month of classes, but we want to know what you want us to teach, and what days and times work the best.  We've set up a short survey so you can let us know your needs: https://www.surveymonkey.com/s/RMWebinar