It looks like Mark Tucker over at ThinkGenealogy has gotten in on trying to figure out the hints on the new features I didn't talk about in my first "unveiling". I can't believe he figured out our biggest new feature… the reversed note icon on the toolbar. Actually, we have no idea why it is reversed from version 3, but it really doesn't mean anything. I will confirm his suspicion that the little arrow on the "Add Person" button means that the same menu as in version 3 will drop down there. As for the other items he picked out, we'll just have to see what those are in future entries. There are still at least two other hints from those screens that nobody has mentioned, but that's ok because they are probably harder to spot than Waldo.
Speaking of adding a new person, let's show a new little feature we added in that area. This is what the RootsMagic 4 "Add New Person" screen looks like (or at least if you click on that thumbnail you will see what it looks like).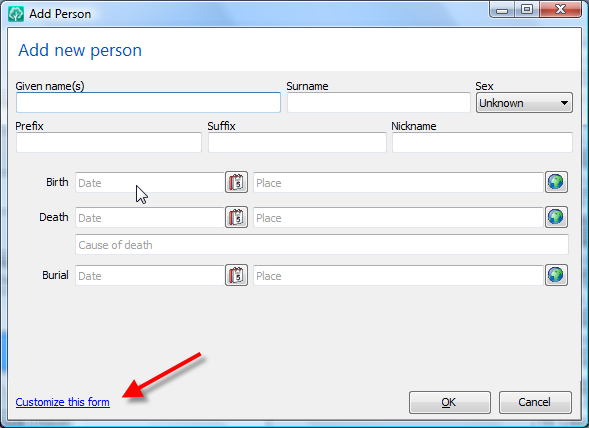 There are 2 changes that RootsMagic users will notice. The first is that we have added a cause of death field. The second (and much more exciting) new feature is that little link that the arrow is pointing to. Clicking that link will bring up this customize screen.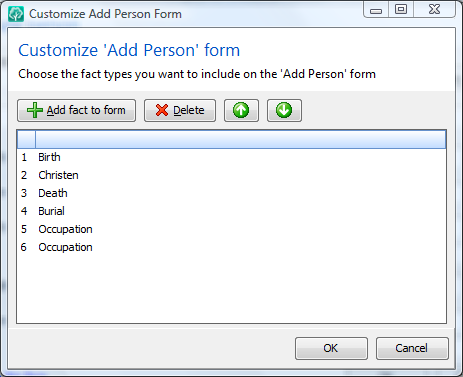 You will now be able to create your own custom "Add person" form by selecting the fact types you want displayed on that form. Choose which fact types and what order you want them displayed. Once you are happy with your selections, click OK and RootsMagic will return to your newly customized "Add Person" form.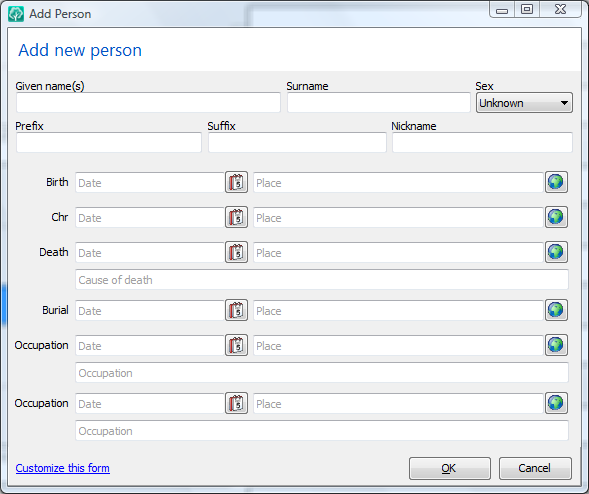 You can even have multiple copies of the same fact type if you want. That's useful if you tend to add multiple census, occupation, or residence facts for people. You can have up to 50 facts on the add person screen, and RootsMagic will add a scrollbar if necessary to see them all.
Oh, and just a little "clarification" for readers who aren't already using RootsMagic. What I've shown here isn't the full-blown edit screen for a person (wait until you see all the cool stuff we added there). This is a "quick add" form that lets you enter basic details on the person before the full edit screen appears (which has no limitations on the amount of data).
So keep checking back. We haven't even scratched the tip of the iceberg.
�