Today, we'll look at the "Home" view from our upcoming RootsMagic 8. This is the first view that you'll find in the Navigation bar on the left.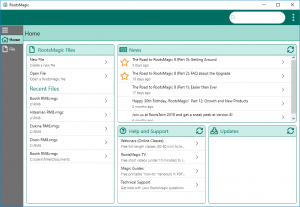 Note: Eagle-eyed readers will notice that this was called the "Dashboard" view in previous blog articles. The actual label for this view has gone through some changes throughout the development process. Remember, the screens and features that we're showcasing are still being tested and refined and could go through additional changes before version 8 is officially released.
The Home view shows the latest news and announcements from RootsMagic, links to our various help and support channels, as well as the ability to detect, download, and install updates to the software. New updates and unread news items are highlighted with a star.
If you haven't opened a RootsMagic file, the Home view presents a list of recent RootsMagic files that can be opened or the option to create a new file.
If you do have an open RootsMagic file, the Home view displays information about the current file, similar to the "Database Properties" in previous versions.
In short, the Home view is a friendly starting point for new users as well as a way to communicate and interact with more experienced users.
Update: We've had several questions about if you can bypass the Home view when you start RootsMagic. Just as you could in previous versions, you can set RootsMagic to start on other views when you open your file. You can also tell it to automatically open the last file you worked on, when you start the software.