Well, maybe just a little unveiled. As I promised, it's time to start pulling the covers off of RootsMagic 4, but just a little at a time. So let's start with the teeny tiny new features, and we'll work our way to the super-duper new features in the coming weeks. Today I'm just going to show you the main screens in RootsMagic 4. There aren't a lot of differences because if it ain't broke, don't fix it. But there are a couple of small things we've added to simplify things a bit.
So if you clicked on the screenshot above so you could actually see it, you noticed 2 small changes. Number (1) is a slider to let you switch between 5 and 6 generations on the pedigree chart. Now we've let you do that in the past, but a lot of users never knew it because it was buried down on the status bar. And number (2) is a feature a lot of users (especially beginning ones) have asked for. I think it is probably self-explanatory.
Oh, and by the way, you should probably ignore that little blurred out tab next to the Descendants tab. It's too cool for this early in the show (I told you I was a tease).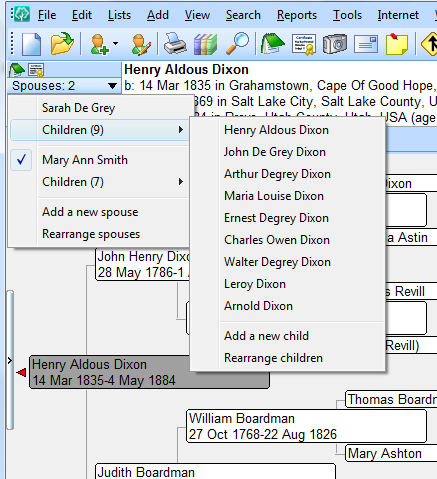 We have updated the little info area to the left of the highlighted person's name. Now when you click on the Spouses button you not only see the spouses and children, but you can also 1) add a new spouse, 2) add a new child to a family, or 3) rearrange the spouses or children. Yes, you have always been able to do these things in RootsMagic, but now it's a little easier.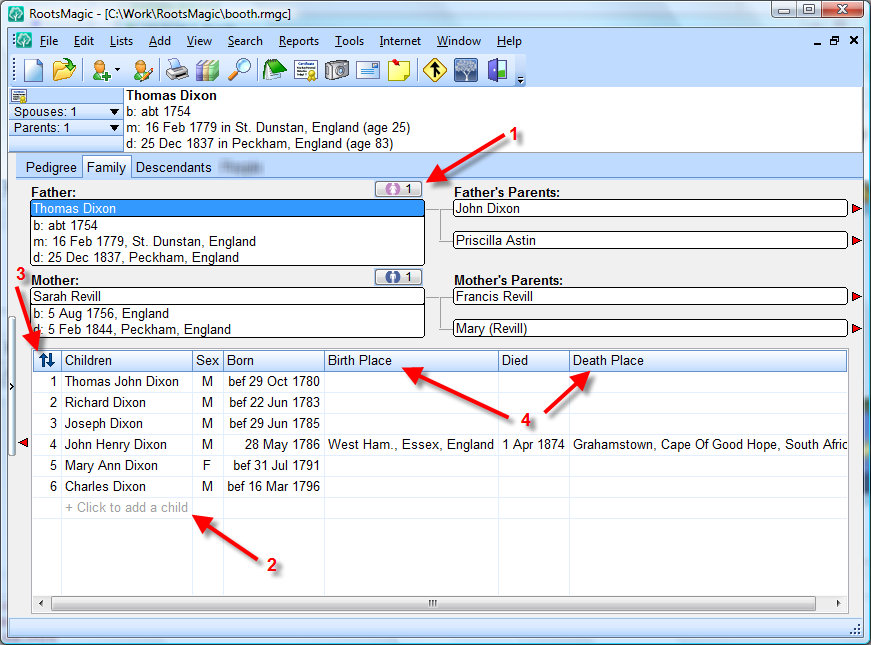 On to the Family View. Once again, little additions to make navigation and adding / editing data easier. Now you can always see exactly how many spouses each parent has (1), and clicking the button will let you switch spouses or add a new one. As in the pedigree view, you can add a new person (2) by clicking right where the person will go. Number (3) brings to the screen one of the most hidden features in version 3 (yes, we know it was hard to figure how to sort those kids). Just click the little sort arrows and you can immediately rearrange the children in the family. And finally (4), we heard you and have added the birth and death places, as well as optionally showing each child's relationship to their parents.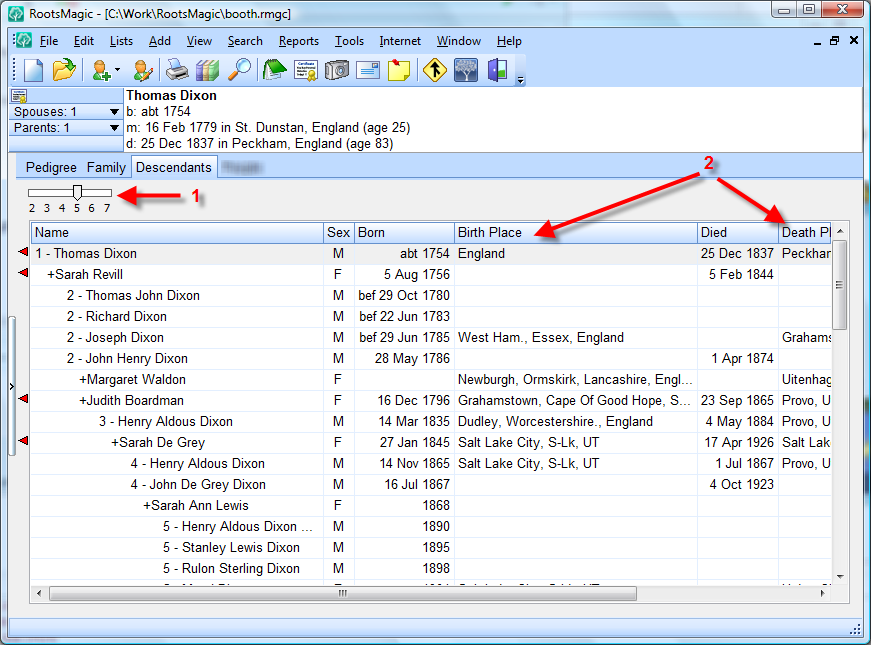 The descendant view looks and works just like in version 3, with the addition of the generation slider (1) and the addition of the birth and death place (2) columns.
So there you have it.  The tiniest enhancements we made in RootsMagic 4.  But those with eagle eyes might spot several hints of other changes on the main screen that we didn't talk about.  So keep checking back.  It only gets cooler from here.
�