Time for a sneak peak at a couple more of the small features coming in RootsMagic 4. I promise the big features are on their way. Just want to give the little ones their time in the sun.
Live Spell Checking
While RootsMagic has always offered spell checking, version 4 now offers "Live" spell checking. You know, those annoying little squiggly red lines that show what a lousy speller you are without you even having to ask for it (click the image below to see them in their full glory).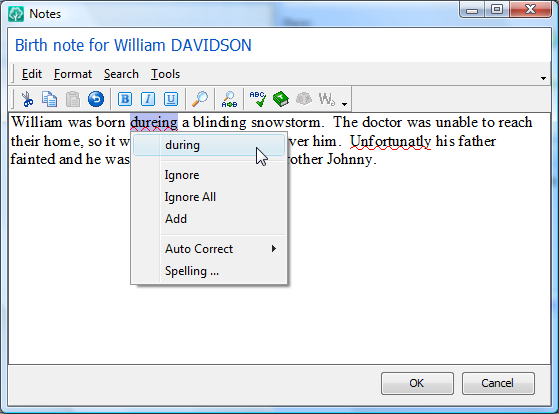 The nice thing about live spell checking is that you can just right click on the misspelled word and RootsMagic will display a menu with suggested spellings (and other options). And yes, those who are allergic to squiggly red lines can turn off this option and continue to use the old fashioned spell checking.
Auto Correct
Don't you get tired of typing "teh" instead of "the" all the time? RootsMagic 4 can now automatically fix that for you. If you type "teh", RootsMagic will automatically correct it to "the" as soon as you enter the space.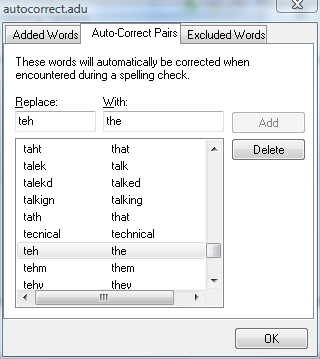 If "teh" isn't your weakness, you can add your own problem areas for RootsMagic to correct. I personally use this feature to change "rm" into "RootsMagic" (yes, I really am that lazy).
Thesaurus
At a loss for words? Or just tired of using the same words over and over?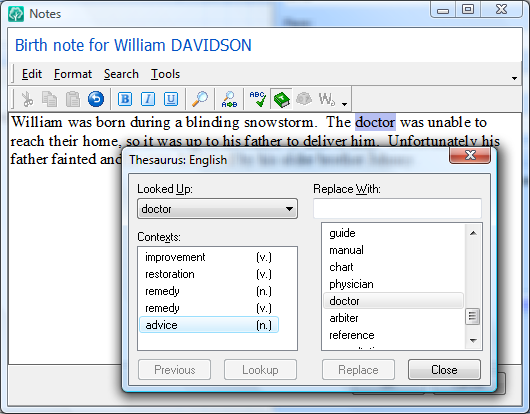 RootsMagic 4 comes with an updated version of Roget's Thesaurus, making it easy to look up synonyms (words that mean the same thing) for any selected word. And if the thesaurus suggests a word you find more appealing than your own, RootsMagic can replace your boring old word with the new one.
So keep it tuned here as we continue to unwrap RootsMagic 4. The best is yet to come.